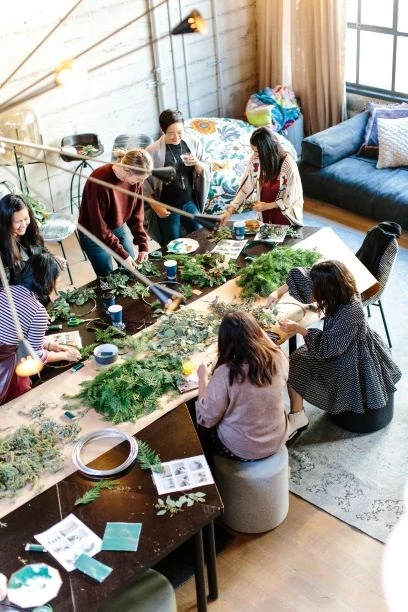 Simple Arts and Crafts Ideas for All Ages
Arts and crafts are a great way to spend time with friends and family, unwind, and create something beautiful that you can be proud of. There are many easy crafts that can be done at home that don't require expensive materials or create a big mess. Let's look at some ideas to consider for your next art project.
● Clay trinkets. Polymer clay is a soft malleable clay that can be baked in your home oven or toaster oven. It comes in different colors and can create pieces such as jewelry, home decor, holiday decorations, and more. Get creative with items you have around the house to make different shapes and designs. For example, use a cup to cut out a circle of clay and a toothpick to draw lines and create texture.
● Decorative wreath. You have probably seen those fancy wreaths for sale at home stores. They can easily be made at home and customized for any holiday or occasion. Start with a hoop that can be found at a craft store (floral wire, plastic, or other material). Decorate it with artificial flowers, ribbons, bells, or any desired materials. Use hot glue or ties to secure your materials to the hoop. These make great decorations on your door for any occasion!
● Memory box. Start with an empty box of any material. Hobby stores sell a variety of photo storage boxes. Get creative decorating your box by painting, drawing, stickers, or whatever you choose. Attach decorations such as cut-out photos or prints with glue or tape. These are a great way to store photos and sentimental items.
● Paint plant pots. Clay pots come in all shapes and sizes and are a great painting canvas. Use a sealant for a base coat and outdoor paint for weather resistance. Small pots can be dipped into a paint-filled container for a base coat or monotone look. Transfer a plant into the pot once the paint is dry and enjoy your new plant!
Remember to have fun, get creative, and mistakes are part of art. Sometimes the process is just as much enjoyment as the end result. Invite others to join you and make it a craft party. These homemade crafts also make great gifts for your loved ones!
Resources:
https://polymerclaysuperstore.com/pages/polymer-clay-for-beginners  
https://plaidonline.com/articles/how-to-prepare-paint-terra-cotta-clay-pots