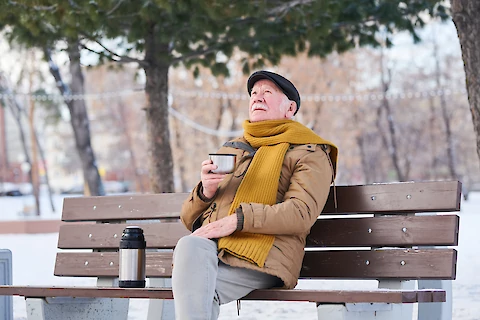 The winter months can be difficult for seniors, especially those who are isolated or lack family and social connections. With fewer opportunities to get out and about due to the cold weather, it can be easy for feelings of stress, anxiety, and depression to creep in.
Seniors must have strategies in place to reduce stress levels during this time of year. You want to keep senior loved ones safe and engaged all year long while providing them with ways to minimize or avoid stress. 
Common Winter Stressors
Winter brings its own unique set of stressors that can be difficult for seniors to manage. The cold weather and shorter days can cause fatigue and low moods, while the holidays bring additional pressures in terms of financial planning, gift giving, travel arrangements, or hosting gatherings.
In addition to these common winter stresses, there are other stressors, including:
Lack of Physical Activity
During the winter months, seniors may be unable to participate in activities they normally enjoy, such as walking, swimming, or other forms of outdoor exercise. This lack of physical activity can contribute to feelings of stress and depression. Seniors need to stay active even during the winter by finding indoor alternatives like yoga classes or stretching exercises that can be done at home. 
Social Isolation
Seniors are particularly susceptible to feeling isolated during winter due to limited social opportunities. Even if seniors have access to technology that allows them to keep in touch with family and friends, they need to engage in meaningful conversations or activities with those they care about. 
Seasonal Depression
Seasonal depression is a real condition affecting many seniors during winter. The cold weather, lack of sunlight, and reduced opportunities to be physically active can all contribute to feelings of depression. Seniors need to find help if they are feeling particularly down or anxious during this time. Fortunately, there are treatments available that can help reduce these symptoms. 
Ways to Reduce Stress in Winter
There are several things that seniors can do to reduce their stress levels during the winter months. These include
Get Together with Friends and Family
Being surrounded by people your senior loved one cares about can effectively reduce stress levels during the winter. Seniors should reach out to family and friends they haven't seen in a while or arrange a gathering with those who live nearby.
Connect with Nature
Nature has a way of calming the mind and reducing stress levels. Seniors can take advantage of winter's beauty by going for walks in their yards, watching birds, or simply enjoying the scenery from indoors. This can be especially beneficial for seniors who are unable to get out due to cold weather or limited mobility. 
Limit Exposure to Negative News Events
While seniors need to be aware of current events, they should also be mindful not to become overwhelmed by negative news. Staying informed can help reduce stress levels, but seniors should limit their exposure and find other activities or interests to focus on during winter. 
Pursue a New Hobby
Engaging in a new activity can be a potent way to reduce stress levels. This could include reading, writing, painting, or any other hobby that seniors may find enjoyable.
Senior Helpers McKinney Can Provide Companionship During the Winter Months and Beyond
Your senior loved one can feel especially isolated and alone during winter in McKinney, Allen, Frisco, Prosper, or Wylie. At Senior Helpers McKinney, our caring and compassionate team can provide companionship and help with daily tasks. Contact us today to learn more about our services or to schedule a free in-home consultation.