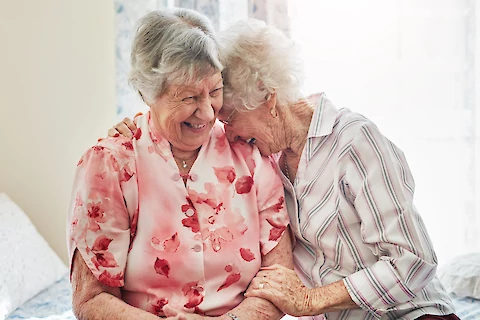 Connecting with fellow human beings isn't only about getting together and having fun — it's essential for your health. Loneliness has been shown to weaken your immune system and increase your risk of heart disease, depression, obesity, and Alzheimer's, among other mental and physical health issues.
While anyone can experience the effects of loneliness, seniors are especially at risk. About one-third of older adults report feeling a lack of companionship, and 27% feel isolated. Even those who live with a partner may feel lonely if they've recently lost friends, and a once active social life can start to dwindle if the senior experiences an illness or injury and loses independence.
For seniors to maintain their health as they age in place, it's important for them to have the opportunity to build and maintain meaningful relationships. Here's how to help:
Remember: Together Doesn't Mean Connected
Maybe you've experienced the feeling of being alone even when surrounded by people. You could arrange for your senior loved one to attend a card game every Saturday, but if they're not building relationships with the other people at the table, their loneliness could persist.
It's not enough to simply be with other people: we need connections. A Kaiser Health News article noted, "What patients really wanted were close relationships with people they care about, satisfying social roles and a sense that their lives have value." There's no one-size-fits-all way to make these sorts of connections.
Find Ways to Connect
If it's not possible to visit your loved one regularly, you could schedule weekly online video chats, or go with an old-fashioned phone call. Work together with the rest of your family and close friends to create a schedule that ensures your loved one gets to talk to or be with someone they love as often as possible.
Help Your Senior Maintain a Social Life
Notice any changes in your loved one's social routine that could be upsetting. If a senior can no longer drive to their fitness class, for example, they might miss their workout partners and feel discouraged by the loss of independence. In that case, you could arrange transportation to allow them to can keep going to class.
Watch for Signs of Loneliness
Everyone responds differently to loneliness, but you should be on the lookout for any of these symptoms of loneliness in your loved one:
Insomnia

Decreased energy or appetite

Frequent illness

Anxiety

Substance abuse

Craving for physical warmth in the form of baths, blankets, etc.
Recognize that your senior may be at increased risk of loneliness after the death of a friend or family member, changes in their routine, or loss of independence that impacts their ability to get out and about.
Consider Senior Companionship Services
If you're concerned about loneliness but can't be with your senior loved one as often as you'd like, at-home senior companionship is a great option. The companion is there to talk, play games, watch sports, help with hobbies, prepare meals, or offer transportation so the senior can attend events. This is a personalized service that meets seniors where they are and gives them an opportunity to build a relationship with someone who cares.
For senior companionship in Salem, Oregon, contact us. Whether your senior needs a once-a-week chess partner or around-the-clock dementia care, our highly-trained, compassionate caregivers are here for you.