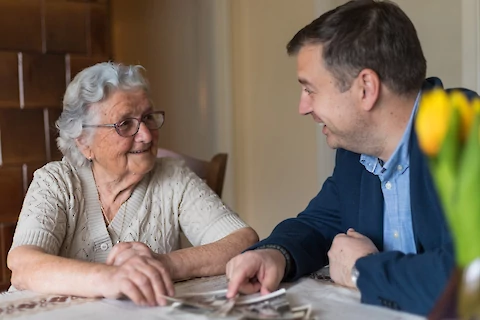 If you're one of the millions of Americans currently caring for an aging, sick, or disabled loved one, you know all too well how demanding it can be. Juggling responsibilities for work, home, and family while also taking care of a loved one can quickly become overwhelming and chaotic. Fortunately, respite care can be a great option to help you and your loved one find relief.
How Caregiving Can Affect You
Nearly one in five Americans are providing care to a loved one with health or functional needs, according to the latest Caregiving in the US report, presented by the National Alliance for Caregiving and AARP. Caregiving can be fulfilling, but it can also be taxing physically, emotionally, and financially. Studies show that caregivers have higher levels of depression and suffer from more stress, frustration, and loneliness. These issues can lead to serious health problems, including an increased risk of heart disease and high blood pressure. Caregiving can affect you financially as well. 28% of caregivers report that they've had to stop putting money in their savings, and some have even had to dip in to their long term savings, like retirement or education accounts.
When you're focused on taking care of the needs of your loved one day in and day out, it's easy to put your own needs on the back burner. That's where respite care comes in.
What is Respite Care?
Simply put, respite care allows you to take a much-needed break. It gives you a temporary break from your caregiving duties so you can take some time for yourself while providing you with peace of mind that your loved one is receiving the care they need. You can use the time to run errands, take a walk, go shopping, socialize with friends, read a book, take a nap -- anything to destress and recharge your batteries. Respite care can help you feel less isolated, prevent burnout, and restore balance to your life, leaving you feeling rejuvenated and refreshed. It can be beneficial to the person you're caring for as well, providing them with new relationships and a change of routine.
Feeling guilty about accepting help is entirely normal. But it's important to realize that caregiving isn't something you can do alone. Taking a break is actually extremely beneficial. Managing your mental and physical health will make you a much more effective caregiver. After some time away, you can return to caregiving renewed and re-energized with a fresh perspective. When you're in a better mood and less stressed, you'll be more patient and caring with your loved one. There is nothing selfish about focusing on self-care.
At Senior Helpers Salem, our respite care services include assistance with activities of daily living, companionship, personal care, meal preparation, laundry, and light housekeeping. Our compassionate caregivers can provide respite care at home or in a senior community. And to ensure a compatible match for your loved one, we'll compare your preferences to our caregivers' qualifications. Contact us today to schedule a free in-home assessment.