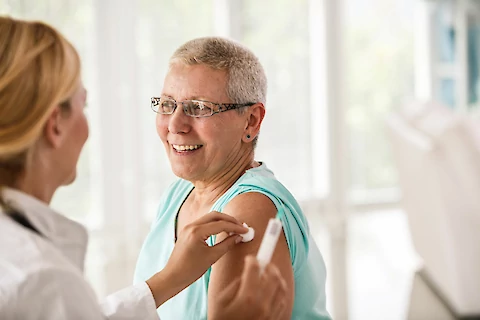 What Symptoms to Expect From the Flu Shot (and How to Treat Them)
Cold weather means the start of the flu season. The flu is one sickness that no one wants to get as it brings about stomach upset, aches and pains, and uncomfortable fevers. Getting the flu shot is one way to reduce your chances of serious side effects from the influenza virus.
But while it's always a good idea for people to get their yearly flu shot, there are some common side effects that can present themselves afterward. Knowing what to expect from these side effects and how to treat them means that senior adults in and around the Lakewood, Toms River, and Manchester Township areas can be well-prepared to conquer this flu season.
Following are some of the most common flu shot side effects and how to treat them.
Headaches and Muscle Aches
According to Healthline, a headache or minor ache at the injection site are some of the most common flu shot side effects. Typically, these side effects will present themselves on the first day and goes away within a day or two. You can prepare for this by stocking up on ibuprofen or acetaminophen, but make sure to consult your doctor before taking any medications that you are unsure about.
Another good way to prepare for a possible headache is to make sure that you don't have any major plans on the day after you get the shot so that you have time to rest.
Dizziness and Fainting
Dizziness or fainting is another possible side effect of getting the flu shot. This is less common, but if you are prone to dizziness or fainting, be sure to make your healthcare provider aware of this in advance. You should also make sure to have plenty to eat or drink before you get the flu shot so that your blood sugar is stable. Don't attempt any strenuous activity after getting the flu shot, especially if you suspect that you might get dizzy.
Mild Fever
As Healthline notes, a fever of 101°F or less is a common side effect of the flu. It usually resolves itself after a day or so, but you can treat a low-grade fever by taking ibuprofen after consulting with your doctor. If you start to feel unwell or tired, make sure to take it easy. Ideally, after you get the flu shot, you can rest at home for the remainder of the day, eating plenty of nutritious food and drinking lots of water.
Senior Helpers Provides Premium Personalized Care Services
According to the CDC, flu vaccination can keep you from getting sick with the flu and can reduce the severity of the symptoms if you do get sick. This makes flu vaccination an important tool in the wellness arsenal of any senior adult. With a little bit of preparation, you can make this flu season your healthiest one yet.
For personalized senior care services that prioritize your health and wellness, contact Senior Helpers today. We take care of senior adults in the Manchester Township, Brick, and Ocean County areas, providing premier in-home caregiving services.