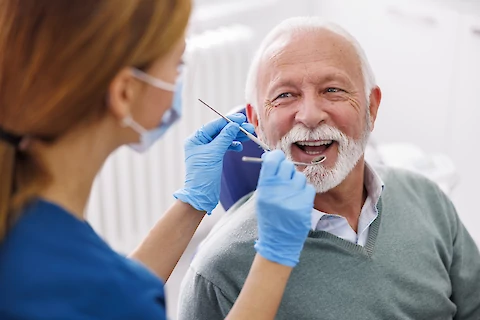 Dental Care for Elderly Adults on a Budget
For a senior on a budget, dental care can be too expensive, and most insurance policies don't cover dental. There are steps that you can take to minimize your need for expensive dental procedures in Toms River. Here are some things to consider:
4 Things to Consider for Senior's Dental Care
Routine Check-Ups
Most dentists recommend having your teeth cleaned at least twice a year. During this visit, a dental hygienist removes any built-up plaque, access the health of your teeth, and makes any recommendations, such as having a cavity filled. Plaque that builds up on teeth eventually leads to expensive cavities and more. These check-ups are essential to avoid more costly dental work. These cleanings are an investment in your oral health, and you should make them a priority. If you have a local community college that trains oral hygienists, you might be able to find an inexpensive solution.
Invest in an Electric Toothbrush
While some dentists don't recommend either a manual or electric toothbrush, some do argue that an electric toothbrush is better at removing plaque. Not all electric toothbrushes are the same, and it's better to purchase one that has heads that oscillate and can be replaced. 
According to the American Dental Association, you should replace your toothbrush every three to four months, which is why you want an electric toothbrush that allows you to change the head. The ADA also recommends using toothpaste with fluoride and brushing your teeth twice a day for a minimum of two minutes. 
Floss Each Day
Using floss and flossing between each tooth is one of the single best things that you can do to maintain your overall dental health. You want to rub the sides of each tooth gently and move the floss up from the gums. You can use the type of floss that's most comfortable for you to use. If you have challenges reaching your back teeth with floss, there are plastic tools that hold the floss in place to make it easier. There's also the option of something similar to a Waterpik.
Look for Low-Cost Dental Clinics
If you need major dental work or need to find low-cost cleanings, look for dental clinics that offer a discount or sliding scale fees. Some dentists allow you to purchase a membership for a fee, and this membership lowers the rest of your dental costs. 
Also, a community college that trains dental hygienists might offer low-cost cleanings to save you money. Also, Rutgers School of Dentistry might be able to offer you lower-cost dental work. While students work on your teeth, the students are overseen by professors who are licensed dentists, and you save money. 
Partner With Senior Helpers Ocean County for Daily Needs
If you're a senior or have a senior loved one who needs help with daily routines in Lakewood, Toms River, Manchester Township, Brick, or Ocean County, you need to partner with Senior Helpers Ocean County. Our team provides care and compassion while we offer help with everyday tasks. Contact us now!