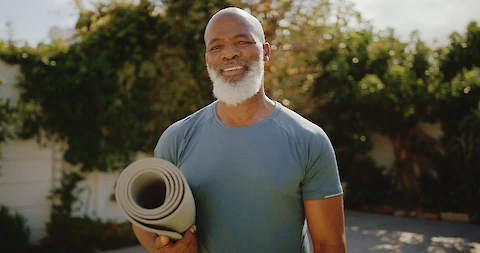 The Best Types of Yoga for Seniors
Yoga is a great practice for people of all ages.There are many styles of yoga for seniors out there that are accessible and fun. Their poses can be modified to meet the needs of all types of individuals. Some older adults may be curious about classes whereas others may want to try a few videos on their own. At Senior Helpers, we support your loved ones in all types of endeavors, including yoga! We aim to promote independence and instill a sense of pride in the seniors we support. Aging in place allows older adults to take part in the activities that bring them joy while still receiving the around-the-clock care they need. If you or your loved ones are interested in accessible yoga, read on!
Chair Yoga
This type of yoga, as the name implies, is done solely while sitting in a chair. Since it allows seniors to remain seated, they can focus solely on its benefits instead of having to worry about balance and accuracy. Seniors can participate in chair yoga while in a class with others or in the comfort of their own home. It's a great way to remain safe while also learning what movements they are able to do and which ones might cause pain. It's important for older adults to remember not to push themselves too far. Yoga is not meant to cause pain. It is meant to increase flexibility and strength. Taking each pose and movement one step at a time is the best way to make progress!
Yin Yoga
This style of yoga is specifically meant to increase a sense of tranquility in the individuals taking part. Yin yoga offers deeper stretching and allows seniors the chance to learn more about the benefits of deep breathing. It is one of the slower forms of yoga and aids in soothing the joints. It can also help individuals to understand what their body feels like in certain positions, which can then be modified to their specific needs. Lastly, yin yoga has been known to aid in decreasing stress in older adults because it teaches individuals how to be present and practice mindfulness.
Restorative Yoga
This is another form of yoga that includes mindfulness in its practice. Restorative yoga is safe for seniors and promotes both a healthy brain and body. The stretches are gentle and can be easily accommodated for older adults. Engaging regularly in this type of yoga can be beneficial for a senior's respiratory system. Restorative yoga can also aid in weight loss, promote better circulation, and keep joints properly lubricated. The longer individuals practice restorative yoga, the more likely they are to experience the positive benefits of it!
Not only is yoga accessible for older adults, but it also provides a wonderful array of benefits for nearly all participants! Taking part in yoga is a great way to help maintain a positive, healthy lifestyle for seniors of all abilities. No matter what type of support your family member requires, we are able to provide quality senior care to those in need. We support all individuals in the Baltimore, Towson, and Columbia areas. Contact us today to learn more about how we can support the seniors in your life!