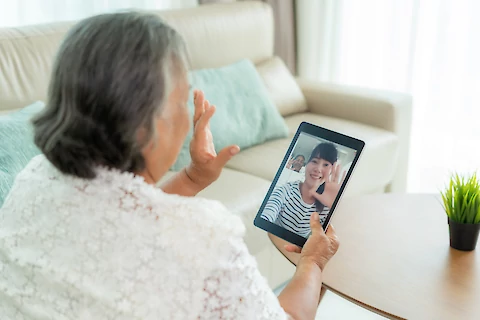 Senior Care from Afar: Tips to Support Your Loved One
Time and again, interpersonal relationships and social interactions have been shown to have profound and long-lasting benefits on the health and wellbeing of seniors. If you are striving to help provide these benefits and don't live close to your loved one, or do but are choosing to keep your distance to protect your senior during the coronavirus, there are still plenty of ways to stay close and connected without physically visiting. Here are a few ideas for caring for your senior loved one from afar:
Put Pen to Paper
There is something timeless and irreplaceable about putting pen to paper and drafting a personal letter to a loved one. The seemingly lost art of letter writing is likely a welcome reminder of years past for your senior and a special way to stay connected during modern times. For your loved one, checking the mailbox and finding more than weekly circulars and utility bills is sure to brighten their day. The experience is particularly impactful during this time of limited out-of-home excursions and social interaction. Plus, letter writing is an activity that your loved one can reciprocate, responding back to you and establishing a pen-pal relationship.
Craft a Care Package
Even more special than a personal letter is a thoughtfully constructed care package. Fill it with entertaining at-home activities like jigsaw puzzles, crosswords, paperback books, and adult coloring pages—you can even print some for free off the internet. Including some sentimental items like recent photos of family and pets, children's artwork, and a small gift like a mug or box of sweets adds to the package's personal appeal and is sure to put a smile on your senior's face.
Call for a Chat
Another way to stay connected is to simply pick up the phone and say "hello." It's likely that many other areas of your life are dominated by text or electronic communication. Taking a moment to place a phone call forces you to slow down and offer undivided attention to your loved one. It also demonstrates to your loved one that they are always on your mind, even from afar. Before you pick up the phone, be sure you're keeping time zones and meal times in mind so that you are honoring their schedule and offering a welcome interaction instead of a bothersome interruption.
Pair Them with a Professional
Perhaps the greatest gift you can provide for your senior is that of professional senior companionship. Just because you cannot be with your loved one around the clock, doesn't mean that they have to be alone. Licensed home caregivers are answering the call to provide service during our nation's current health crisis by taking extra precautions to ensure that safety guidelines are followed closely, and your loved one is protected.
Senior Helpers Baltimore is committed to providing industry-leading 24-hour in-home care to seniors in Baltimore City, Baltimore County, Towson, and surrounding areas. For more information about in-home services, contact us today.