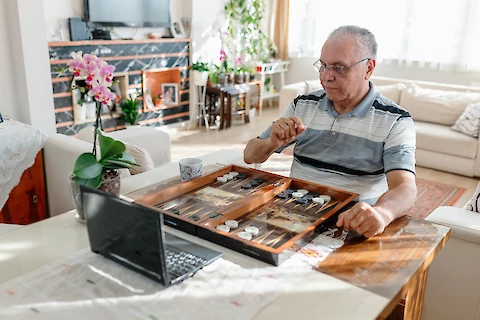 Senior Care During COVID-19
2020 has been an undeniably difficult year. The Covid-19 virus has reminded everyone how important it is to maintain our relationships, even while apart. Many people are still facing quarantine and self-isolation, leading to growing loneliness as individuals are excluded from day to day interactions. It's important now more than ever that we are providing our seniors with the love and attention that they are craving and need during these difficult times.
As of mid-June, there have been 2.2 million confirmed cases of COVID-19 in the United States. In Maryland alone, there have been over 60,000 confirmed cases of the virus.
This respiratory virus puts our senior population at a higher risk of serious illness or death. As such, it is crucial that social distancing guidelines are followed to protect our loved ones. For seniors living at home, interactions are easy if you are quarantined together. For those who are at a care facility or who live on their own, it is not as easy to get that interaction. The last thing that we want to do is put our loved ones in harm's way, but the loneliness and isolation that go hand in hand with social distancing can be detrimental as well.
Luckily, there are many ways to keep in touch with our loved ones while abiding by social distancing guidelines. Let's go over a few activities that can bring us all closer together (metaphorically speaking, of course) during these trying times.
Video Calling or Phone Calls
If your loved one lives alone and is not tech-savvy, a video chat with them may not be an option. However, for seniors with a smartphone, there are usually pre-installed apps, such as FaceTime, that you can talk them through how to use. In lieu of video chatting, there is always the traditional phone call. Being able to hear each other's voices is highly important in keeping our connections. Finding time in our days to set aside for these visits can go a long way.
Long-Distance Meals
Sharing a meal or a drink together over the phone via video call or audio can be a wonderful gesture. Although not the same as an in-person dinner, it's a great stand-in for togetherness. Eating alone can be lonely and boring but, with the help of technology, each meal can be an excuse to catch up with your loved one.
Remote Games and Fun
Playing games remotely is a wonderful bonding experience. Whether your loved one is a trivia buff or a fan of strategic games like backgammon, there are endless ways to explore some friendly competition at a distance. Additionally, you can plan a movie or tv night to simulate another typical shared experience. Just sync up your televisions and chit chat during commercial breaks.
Crafting and Cooking from Afar
Making crafts or food to drop off for your loved ones is another wonderful gesture. Make sure to follow sanitizing procedures and distancing regulations when you make your delivery. Preparing a favorite meal or delivering a grandchild's watercolor is certain to be a bright spot in any elderly family member's day.
Regardless of how you decide to spend time with seniors in your life and community, the important thing is that we are trying our best to keep them included in these times. Now more than ever, family and being close to the ones that we love and care for, is something that we should strive to keep doing.
For information about Senior Helpers and our services in and around Baltimore, contact us.