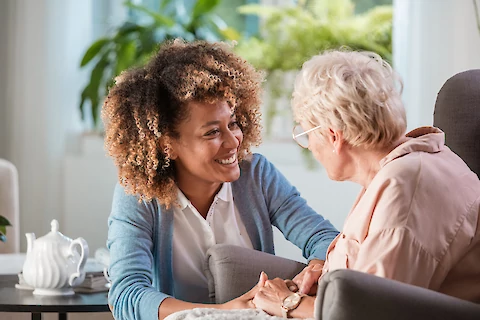 Be Prepared: Caregiving During COVID-19
Pandemics are alarming for all of us, but they can especially be worrisome for those with elderly and vulnerable loved ones. If you are living with or caring for someone at risk of developing complications from COVID-19, there are still many ways to limit your potential for infection and ensure the long term well-being of your loved one.
Prepare, Don't Panic
Although the threat of COVID-19 is real for the elderly, there are still many science-backed methods to prevent the spread to your loved ones. The Centers for Disease Control and Prevention have stated that the only way to prevent infection to the disease is to avoid exposure to those with COVID-19. Consider limiting the number of visitors to your facility or home to minimize person-to-person contact. If you need to go out, wear a face covering and maintain at least six feet of distance from others. Although many public spaces are loosening their restrictions on gatherings, if you live with someone with a high risk of developing complications from the disease, it is important that you continue minimizing non-essential activities.
See a Doctor if You Are Sick
Some people may feel uneasy at the thought of seeking treatment in hospitals that are currently seeing COVID-19 patients. Healthcare facilities have adopted safety and sanitation measures to ensure that all patients can safely receive care. If your loved one needs medical attention, they should still see a doctor. If you or a loved one have any of the symptoms associated with COVID-19, contact your healthcare provider immediately. If you are not experiencing life-threatening symptoms, take an online self-assessment before visiting a hospital or healthcare provider.
Practice Self-Care
Mental health can take a backseat during a pandemic. The WHO recommends that individuals focus on maintaining routines, keeping up social interactions (even virtually), and limiting time spent consuming news and social media. The well-being of caregivers is just as important as the health of those in their care. Remember to take time for yourself and assess your own mental health and well-being. It can be challenging to take breaks from caregiving, but if you are able, set aside a few hours of each day to focus on healthy habits and goals, such as meditation and exercise.
Know When It's Time to Call in an Expert
Caring for a loved one is a full-time job. While family members enjoy the time they spend caring for elderly loved ones, it can still cause emotional stress and get in the way of other important tasks. If you are feeling overwhelmed caring for someone during the pandemic, find out if senior companionship or home caregiving is an option for you. Senior Helpers can also provide occasional wellness checks for those who are still able to live comfortably and safely in their own homes. Caregiver fatigue can cause unnecessary stress. If you are experiencing symptoms of burnout, it may be time to look for a professional in-home caregiving solution.
COVID-19 has altered many aspects of daily life. It has put immense pressure on those caring for the elderly and vulnerable. However, caring for loved ones with compassion has never been more important. With the right information, you can ensure the safety of yourself and others during these uncertain times.