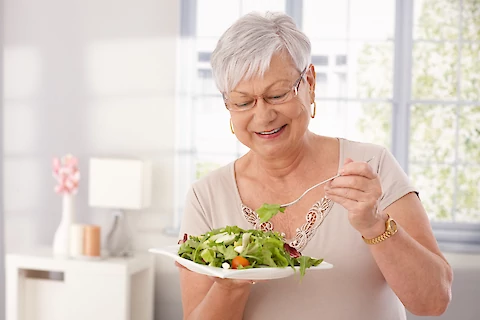 This Healthy Salad Can Help Nutrition for Seniors
Meal Inspiration: How to Build a Healthy Salad
Long gone are the days when salads were nothing more than "rabbit food." When many people think of a salad, they think of a pile of lettuce with little or no flavor to it. However, vegetables can play a critical role in nutrition for seniors as it provides them with vitamins and minerals that keep our bodies healthy.
Salads can be an interesting and unique meal with all the different variations that are available. Salad has undergone several revolutions in recent years, and today salads can provide a senior with something different to enjoy.
However, building a salad that is not full of sodium, fat, and added sugars can also be a challenge. Many salads can wind up having more calories in them than a hamburger or pizza. The good news is that there is a perfect process to build a salad that is both nourishing and delicious, as well as satisfying.
At Senior Helpers Raynham, we empower seniors to stay healthy and comfortable at home. So, here are some great salad tips to keep in mind while building a salad that is both tasty and nutritious.
Start with Dark, Leafy Greens:
Iceberg lettuce might be cheap to buy and easy to use, but it has little nutritional value. Instead of traditional iceberg lettuce (which is mostly made of water), choose dark, leafy greens to start the base of your salad. Dark, leafy greens help add vital nutrients like fiber, folate, magnesium, calcium, iron, potassium, and Vitamins A & C. Consider building your salad base with greens such as kale, spinach, collard, arugula, turnip greens, watercress, or romaine rather than just plain iceberg lettuce.
Pile On the Vegetables — Choose a Variety of Colors
Pick your favorite vegetables and add them generously as you like to your dark, leafy greens to create a base for your salad. Choosing a variety of colors will add flavor and nutrients to your salad. Bell peppers (red, yellow, orange, green), carrots, celery, cucumber, beets, radishes, and tomato are just a few great choices to help make your salad colorful and flavorful.
Add Sweetness to Your Salad with Fruits
Adding different fruits to your salad can add a hint of sweetness to each delicious bite. People think that fruits don't go in salads, but that couldn't be further from the truth. Try strawberries, raspberries, or blueberries for a hint of sweetness. Citrus fruits, such as oranges and grapefruits, work well. Lemon or lime juice can give the salad a zing of flavor without adding additional calories.
Fill Up on Proteins
Adding proteins to a salad is a healthy way to make your salad more filling and healthy. Choose from a variety of different proteins, such as hard-boiled eggs, shrimp, tuna, turkey, ham, steak, or chicken to name a few. Proteins help you feel full and also provide nutrients that your body needs. Nutritionists recommend that a 150-pound woman consumes about 55 grams of protein per day and a 180-pound man should consume about 65 grams of protein per day.
Consider Adding Beans
Beans provide a great source of fiber that can help keep you full for longer. Try pinto, red, or black beans or even chickpeas to flavor your salad and keep you full for longer.
Possibly Add Carbohydrates
If you want to feel full for even longer, consider adding whole grains and carbohydrates to your salad. Try adding whole-wheat pasta, pearled barley, quinoa, etc. to help your salad feel more robust. Adding a healthy serving of carbohydrates can help your salad feel more like a meal.
Healthy Fats Add Flavor
Adding fats to your salad helps add flavor as well. Fats also help you feel more satisfied and stay full longer. A moderate amount of fat in your diet is healthy, but too much isn't good either. Some great options for fats to add to your salad include nuts, seeds, cheese, and avocados. Aim to add about 150-200 calories of fat to a salad for a meal.
Use Homemade Dressing
Homemade dressings are easy to make and can save you a lot of extra sodium, sugar, and saturated fat that comes in store-bought dressings. "Diet" dressings may seem like a good idea, but many contain fake ingredients to help it taste better without all the fat that makes "regular" dressing taste good.
Be Creative and Customize Your Salad for You
If you don't know if you will like a particular combination of salad ingredients, just try it and see how it tastes. You may find something new that you love. There are also traditional salad ideas that you might want to try to see what you like. The recipes and possibilities are endless with salads.
You can make the salad any size you choose, or you can make a big salad that is divided into smaller portions for multiple meals. Salads can make hassle-free meals, and they can be altered to fit anyone's diet and preference.
Salads are a great way to provide seniors with a healthy, balanced meal that can be different every time the person has it. Nutrition for seniors doesn't have to be boring, and salads can make a great meal that constantly evolves and changes. Different combinations of salads can add variety to a senior's daily diet. Whether a caregiver prepares salads for the senior or the senior makes salads for themself, the variety of salads are endless. Balancing your salad allows your salad to be both healthy and nourishing (as well as tasty).
At Senior Helpers Raynham, we proudly provide consistent senior care in Plymouth, Raynham, Dartmouth, Attleboro, and Bristol County. For more information about how we can help your loved one stay healthy and happy, please contact us.