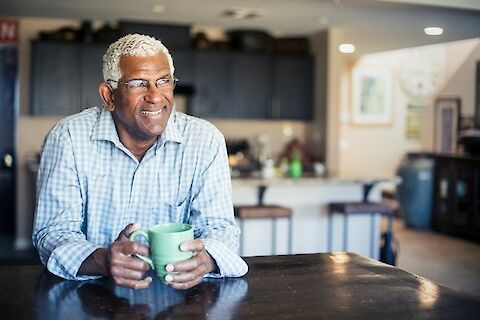 Being given the time to grow old is a wonderful privilege. There are so many joyful experiences associated with this stage of life. That said, for those who want to make the most of their golden years, difficult choices are sometimes required. Seniors must decide if they are going to age in place in their own home, if and when they may need to lean on family members, or if they should seek professional levels of care.
If you find yourself worrying about a loved one who has decided to age in place, there are some steps you can take to support them and give yourself some reassurance. Additionally, the Senior Helpers team can help you decide what level of care is needed and offer resources for the process. Senior Helpers provides care throughout Southeastern Massachusetts, with a range of services tailored to the needs of our senior clients.
Here's how you can support a loved one who has decided to age in place:
Watch for Red Flags
When you begin to notice memory issues or cognitive decline, discuss this with a doctor. It may be an unavoidable part of aging, but their physician can decide if medication or other health issues are contributing to the problem. Also, if they seem to be struggling to complete household chores or maintaining personal hygiene it may be a good idea to speak with a healthcare provider. Occupational therapy may be a good option.


Take Precautionary Measures
Ask them to wear an ID bracelet. This can be important for seniors with memory issues but is also important for anyone with a medical condition. The ID can include their name, important health notifications, and perhaps a contact number if you are concerned about them becoming lost or confused.
Additionally, ask your loved one to get a phone or other device that can share locations. While it is unlikely that they are in any danger in the Plymouth, Raynham, Dartmouth, Attleboro, Bristol County areas, being able to check the location of a loved one when we are concerned provides reassurance and peace of mind to everyone.

Don't Be Discouraged
Learn to meet your loved one where they're at. When hearing or processing words becomes difficult, simplify your language and stress keywords. If language fails completely, try simple signs or match certain music to regular routines. When verbal communication isn't possible, holding a hand or rubbing a shoulder will show your care and make a connection when there are no words.
It is important to be realistic and consider how much support your loved one needs. There may come a time when you may need to call in reinforcements. A senior companion might be enough, or maybe specialized care is required. If and when the time comes, it is important to remember that your goal is to ensure the highest possible
Plan Ahead
While your loved one is still able to make decisions, ask them to share access to financial and medical information. Also, ask them to authorize doctors and banks to share information with you. This will help them to be comfortable and secure and ensure the sustainability of your care. You are also able to protect their interests and help them avoid predators who target seniors.
Remember It's Okay to Ask For Help
Our team offers tailored services that range from companion care for seniors living in Plymouth, Raynham, or Bristol County. With a range of services from companionship to 24/7 care, we're here to support you and your loved one. Please contact us to learn more or to schedule an assessment. We'd love to help!