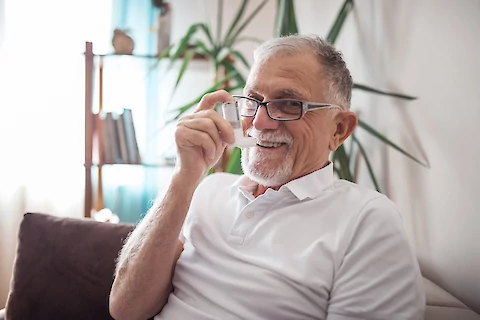 Families need to be aware of the non-medical care needs that go along with a senior loved one who is living with COPD. Once you understand COPD, you can explore actions you can take to help your senior parent thrive. 
What Is COPD?
COPD stands for Chronic Obstructive Pulmonary Disease. It's a condition where the individual has difficulty breathing due to inflammation and shallow airflow in their lungs. COPD is usually characterized by chronic bronchitis or emphysema, or both conditions can occur simultaneously.
Common Symptoms of COPD
Common symptoms of COPD include coughing, wheezing, chest tightness, fatigue, and shortness of breath. These symptoms can range from mild to severe in intensity.
Senior Needs for Non-Medical Care
For seniors living with COPD, there are certain non-medical care needs that can help them manage their condition, such as:
1. Transportation
When living with COPD, it can be difficult for your senior loved one to get around on their own. Having transportation services available can help them stay connected and involved in activities outside of their home. This can also give them peace of mind that they will not miss important medical appointments or social events. 
2. Home Modifications
Some home modifications can help improve the quality of life for your senior loved one living with COPD. This may include making their home more accessible, such as installing grab bars and ramps. You might need to equip their home with oxygen concentrators and air purifiers. These changes can make it easier for them to get around and feel more comfortable at home. 
3. Social Support
Isolation and loneliness can be a problem for seniors living with COPD. Having social support, whether it's with family or friends, is crucial to help keep your senior loved one connected and supported.
4. Nutritional Assistance
Maintaining a nutritious, balanced diet is key for seniors living with COPD. Providing them with assistance with grocery shopping, preparing meals, and reminding them to take medications can help ensure they meet their nutritional needs. 
5. Mental Health Support
Living with COPD can be stressful and emotional. Providing your senior loved one with mental health support, such as counseling or therapy, can help them to manage their emotions.
6. Physical Activity
Physical activity is an integral part of staying healthy and managing COPD symptoms. Encouraging your senior loved one to stay active with safe, gentle exercises can have many positive health benefits. Always check with your senior's doctor before beginning a new form of exercise, especially anything aerobic. 
Senior Helpers Southeastern Massachusetts Offers Help for Seniors With COPD
Living with COPD can present your senior loved one with many challenges. Fortunately, addressing their non-medical care needs can help them manage their condition and live life to the fullest in Plymouth, Raynham, Dartmouth, Attleboro, and Bristol County. At Senior Helpers Southeastern Massachusetts, our caregivers can provide support with daily activities, meal prep, medication reminders, and more. Reach out to us today!