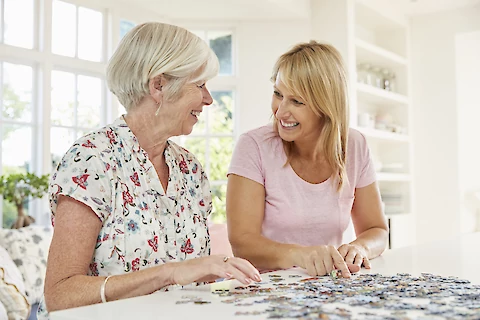 4 Activities for Seniors to Keep the Mind Active
Just like your body needs to maintain a level of physical activity in order to perform effectively, your brain must also stay active. Aging is inevitable, but it is possible to improve mental processing by stimulating the brain. That's why at Senior Helpers in Raynham we provide consistent senior care that keeps seniors engaged and healthy.
Here are a few activities seniors can enjoy while enriching their lives and minds.
Word Games
Word games are entertaining for all ages, and they have the added bonus of improving mental capacity. If a particular word game was enjoyed in the past, then it's beneficial to start with something familiar. Word searches can easily be found in newspapers and for free online, and they activate multiple parts of the brain as a word's length and position in the puzzle has to be considered.
If a senior has difficulty with a word search, then a caregiver can create easier puzzles online. Another great option is Scrabble. This is a game that can involve more than one person, so it encourages socialization. Additionally, the brain's memory must be stimulated as players decide on words to place on the board. This is also a slow-paced game, which promotes relaxation.
Jigsaw Puzzles
Another likely familiar activity, jigsaw puzzles are a great way to improve concentration and memory. They also help with hand-eye coordination and critical thinking skills. Additionally, as the puzzle is being completed and progress is being made, there is a sense of satisfaction and achievement beneficial in releasing dopamine.
Puzzles can be completed as a solo activity, or with other players in a social setting. As the caregiver, be sure to select puzzles that are challenging, but not frustratingly difficult for a senior's cognitive ability.
Writing
Writing can be a cherished activity for seniors used for self-expression and storytelling. It can also give purpose and be something to look forward to throughout the day. It is a soothing activity that can be completed at any pace. Writing down thoughts and experiences is great for memory and stimulating the brain. Caregivers can recommend daily journaling or different writing activities to keep the project engaging and enjoyable.
Reading
Similar to writing, reading is a wonderful way to promote brain activity and celebrate life through storytelling. It is a great form of entertainment and provides much more stimulation than viewing a movie or television show. If a senior can't read on their own, then a caregiver can read to them or set up an audiobook for listening. Additionally, books of any reading level can be enjoyed based on cognitive ability.
Life should be enjoyed and celebrated at all stages. Senior Helpers in Raynham provides premier in-home care, as well as personalized care in assisted living facilities. We offer companion care for seniors and more in Plymouth, Raynham, Dartmouth, Attleboro, and Bristol County. When it comes to caring for your loved ones, you don't have to do everything on your own. Contact us today and let us help provide a high quality of life for you and your family.