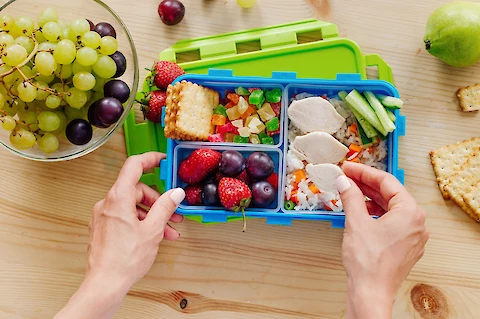 How Bento Boxes Are Perfect for Seniors
What Are Bento Box Meals? Why They Are Great For Seniors
Everyone gets tired of eating the same thing for their meals every single day and that includes seniors. For seniors in North Boston looking for portion control or portable meal solutions, try the bento box.
Bento boxes can make meals interesting, fun, and exciting for seniors. Meals can be made to size based on how many calories the person needs and how much of an appetite they have. Bento boxes are also great for snacks as well. Bento boxes are a creative solution that helps seniors create new, fun meal combinations, all while taking the guesswork out of portion control.
Bento boxes come in several sizes, so every senior is sure to find a lunchbox solution that meets their needs and helps them stay healthy.
What Is a Bento Box?
A bento box is a sort of lunch box that was designed in Japan to help people create healthy meals using portion control. Bento meal box containers traditionally come in several sizes. There are bento boxes that are made for snacks as well as those that are made for meals.
What Sizes of Bento Lunch Boxes Are There?
There is a "youth-sized" bento box that can be great for those with a limited appetite or those looking to practice stricter portion control. Seniors who eat more frequent, smaller meals may also find these bento boxes to be a perfect size. Each container comes divided into five pre-portioned sections. The compartments provide a portion control guide for how much food should be put into the box. This takes the classic, "How much should I be eating?" question out of the equation. Simply fill the compartments (without them overflowing) and your portions are set.
The "youth-sized" bento box also makes a great option for adults who want portion-controlled snacks.
In addition, there is a standard "adult-sized" bento box. The compartments in this lunchbox are portioned perfectly to feed an adult with a larger appetite. This lunchbox lets you pack the perfect portions of entrées, side dishes, and even a small dessert. Seniors no longer have to worry about how much or little to eat, or what a "healthy portion" looks like. Simply fill the containers and you have a healthy portion of food.
How Do Seniors Use Bento Boxes?
Bento boxes work well for seniors in two ways. Firstly, caregivers can simply prepare and pack meals for seniors before they leave for the day. Bento boxes can also be prepared to help portion out food for a senior while the caregiver is present. That way, the senior has a meal prepared and ready to go when they are hungry. No prep work required.
The second way that a senior can use a bento box is as a traditional lunchbox for when they go out to activities and choose to take their meals. It's also great for seniors to take if they need a meal between doctors' appointments or other obligations they need to fulfill.
How Do I Make a Balanced Meal In My Bento Box?
Each of the four different compartments should stand for a food group. Many bento box combinations work great for both adults and kids alike. Here is a breakdown of what to put in your bento box in order to balance meals:
Entrée: Whether you make sandwich wraps or use last night's leftovers as the base for your bento box meal, the largest portion of the container is used for an entrée. A bento box can store virtually any food that you wish to use as your main entrée.

Side #1 - Vegetable: One great side to have with your meal is a vegetable. Whether you like raw vegetables (perhaps to dunk into dip or hummus) or leftover cooked vegetables from another meal, vegetables will offer vitamins and nutrients to a senior's meal.

Side #2 - Fruit: Another compartment can be filled with fruits, such as chunks of pineapple, melon, cantaloupe, raspberries, blueberries, blackberries, or slices of strawberry. Fruit adds something sweet to a meal while still providing the vitamins and nutrients seniors need to remain healthy.

Side #3 - Whole Grain: Finally, adding whole grain to a senior's meal can help ensure that they are getting some fiber in their diet. Whole grains are healthier and more filling than processed, refined foods. They can help keep the senior feeling full until their next meal, which makes unhealthy snacking less likely.
These are some ideas of what side dishes can be included in a bento box to build a healthy meal for a senior. These combinations will provide satisfying combinations of foods that are portioned correctly for a single serving.
Bento Boxes Have Many Possibilities
Be creative and try different meal combinations to know which ones the seniors that you care for like the most. Every person will have different tastes. Once seniors find foods that they like, they are more likely to eat an adequate amount and maintain a balanced diet.
For seniors who are seeking to age in place, caregivers can use bento boxes to prepare healthy, portion-controlled meals. The endless combinations of meals ensure that seniors won't get sick of eating "the same old thing" anymore.
At Senior Helpers, we have been caring for seniors in North Boston for over ten years, with service in the North Shore, Merrimack Valley, Burlington, Lexington, Danvers, and Cape Ann. We care deeply about senior nutrition and making sure that your loved ones are eating full, healthy meals. Contact us to learn more about our comprehensive suite of programs and services.