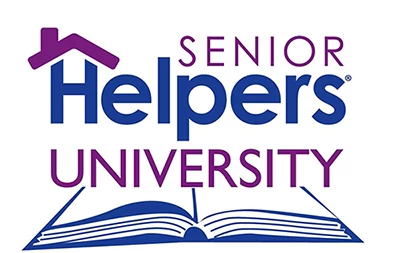 Senior Helpers University — Changing the Face of Caregiving
Our Mission
Our mission is to teach, coach and support caregivers so that they will excel in providing excellent care to their clients. Whether you are a caregiver who has been working for years without formal training, one who is looking to further your knowledge in the field of aging or someone who wants to become a caregiver and have had little or no experience in the field of caregiving, this program will benefit you.
Our Goal
To change the face of caregiving by providing caregivers with additional training, education and experience that will perfect their skills earning them the recognition and respect that they deserve as professionals.
Our Objective
SHU is a program designed to introduce you to the Senior Helpers way of caregiving, making your job a profession and preparing you to work with those who need care. Participants must complete 24 hours of in-classroom training and 12 hours of on-the-job training for those who have had prior caregiving experience (greater than 1 year) or 30 hours for those with no prior caregiving experience. You will learn in the traditional classroom, in hands-on lab situations and when providing care to actual clients in an in-home care experience with graduates of our Senior Helpers program.
Course Description
Classes cover a wide range of topics ranging from how to bathe a client to positioning and turning them . You will learn about Abuse and Neglect, Infection Control and recognizing depression. You'll learn how to feed and dress a client, how to provide incontinence care and about proper body mechanics for safely lifting and transferring clients. You will also learn how to deal with clients with dementia and those that are at end of life.
Students are paid for attending classes and at the end of the program, students who receive a passing grade will be awarded the certificate of completion and become a Senior Helpers University Graduate.