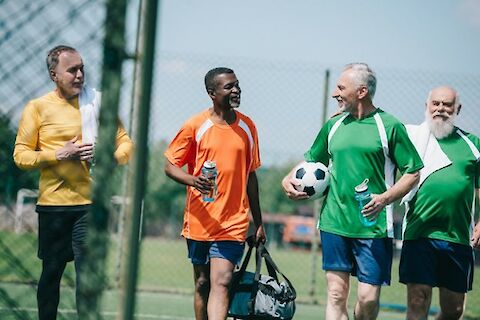 4 Games and Shared Activities in Companion Care and Their Benefits
Games and activities are a fun way to release stress and keep seniors engaged physically and mentally. Selecting suitable games and activities can help add a sense of belonging and value to the seniors by keeping them occupied and busy. 
Most care providers go for the classic seniors' games like board games. But these get dull over time. Adding more physically challenging games and productive activities can create a sense of well-being and better mental health. Here are a few options to get you started. 
1. Gardening 
Gardening is a great way to interact with nature, build responsibility and give seniors something to look forward to every morning. Growing vegetables and flowers around the senior care center or their homes is a great way to pass the time, and it gives them a feeling of value, knowing it is something that their loved ones will enjoy. Because gardening is a physical activity, it doubles as a great exercise that works different muscles and nerves for better toning and balance. 
Benefits of Gardening for Seniors 
It's a lot of fun.
Therapeutic and promotes relaxation 
Improves endurance and strength 
Encourages use of all motor skills 
Increases mobility and flexibility. 
2. Walking Football Game
Walking football is an excellent opportunity to enjoy a thrilling game of football with seniors and other family members. There are no runs or tackles but the game still brings on the adrenalin and is a fun way to pass time, put in some exercise, and break some sweat. Whether playing or cheering, walking football is an excellent way to bring togetherness and encourage the sporting spirit that the city of Evansville is well-known for. Luckily, nearby areas like Mount Vernon, Newburgh, and Boonville have vast parks where you can enjoy some walking football or even take advantage of your backyard if you have enough space. 
Benefits of Walking Football Game
It's a great way to get the seniors out for some fresh air 
Builds a healthy cardiovascular system by increasing the heart rate 
It's a great socializing tool and a way to start conversations and forge new friendships. 
Improves muscle and nerve health through exercise 
An excellent sport to work up some laughter and fun! 
3. Walking 
Walks are a classic that never grows old among seniors, especially when you have a scenic route where you can enjoy nature during the trail. For something more challenging, you can take Nordic walks and challenge your upper body strength as well. Walking offers numerous benefits for the body, heart, and mind. It's perfect for older seniors, and the walks don't have to be long to be effective. 
If you're up for the challenge, you can take up one of the walking trails in Evansville like Howell Wetlands which mixes up some nature for that scenic walk. 
Benefits of Walking 
It's easy, effective, and doesn't require a lot of space. 
It gets the blood pumping around your body without placing too much strain on your cardiovascular system lowering the risks of stroke. 
Helps to keep your weight steady 
Strengthens bones and prevents osteoarthritis and osteoporosis 
Strengthens muscles 
4. Music Therapy 
Music therapy is a fun way to bring the fun indoors and raise spirits. You can select a theme and encourage the rest to sing along to their favorite songs from back in the day. It's a sure way to bring back fun memories and initiate conversations. 
Areas like Newburgh have amazing music therapy locations like the Integrative Music Therapy LLC that offer quality music therapy services to individuals. Alternatively, you could stay indoors and enjoy some of the best music from your golden era. 
Benefits of Music Therapy  
Improves focus and memory 
Helps with socialization 
Enhances communication skills 
Calms and relaxes dementia patients 
Helps with stress and depression 
Key Takeaways in Using Games
Keeping seniors active and in high spirits goes a long way in safeguarding their health and keeping their energy levels high. The activities selected don't always have to be stationary or high risk. You can get fantastic results by going for games and activities that the seniors will love and feel comfortable doing them. Some of these activities can also help the seniors sleep better and remain independent longer. 
Understandably, being a primary caregiver can take its toll on you. At Senior Helpers, we can assist with various chores, including grocery shopping and general housekeeping, with our companion care services in Newburgh, Mount Vernon, Evansville, and Boonville. We also care for seniors with age-related conditions like dementia and Parkinson's.