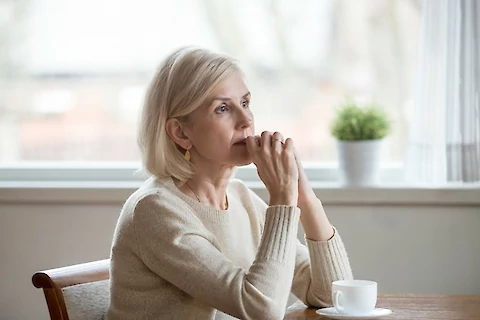 At every stage of life, we experience new things and discover layers of ourselves that we never knew existed. While these new experiences are mostly wonderful, they can also be new challenges that can be distressing. Seniors in the Crown Point, Merrillville, and Lake County areas are especially vulnerable and may be fighting anxiety and depression for the first time ever. It is important to recognize symptoms, understand potential triggers, and know where to seek help.
Symptoms of Anxiety and Depression for Seniors
Anxiety and depression for seniors can manifest itself in a variety of ways. Symptoms like sleep patterns and panic attacks are well-known, but there are also other lesser-known symptoms.
Dizziness/Lightheadedness: As the blood goes to the extremities to encourage fight or flight, the blood travels from the head. This sudden change in blood pressure can affect an elder's balance and stability.

Digestion Problems/Nausea: As adrenaline pumps through our body due to fear, the lining of our stomach may be affected, causing illness. Depression may manifest itself as a lack of appetite or disgust at the thought of eating.

Withdrawal and Isolation: Whether depressed or anxious, older adults may suddenly pull away from family and friends. They may feel they don't have the energy to go out or suddenly fear something terrible will happen if they do.
Triggers of Anxiety and Depression
Sudden and major changes in a senior's life can cause anxiety and depression. These symptoms don't always have a triggering factor, but some common circumstances may exacerbate stress. They include:
Financial Insecurity: Even if the older person's finances are in good order, they may be used to caring for their own finances and now find themselves relying on family. They also may not be used to the fixed income that retirement often brings.

Health Problems/Chronic Pain: Even issues that seniors have dealt with for a long time can worsen if they have more time on their hands. Once ignored, illnesses and aches not noticed while busy may be seriously triggering now that they are resting and more aware of them.

Changes in Sensory Perception: Eyesight, hearing, and even taste can begin to decline as we age, and this can be devastating to the senior.
What Can Be Done?
Of course, one size does not fit all, but some common treatments can alleviate depression and anxiety in the aged.
Have Someone Listen: Like all of us, seniors get lonely and long for someone to talk to. As people age, they can find themselves isolated. Visiting your family members often helps a great deal, but, finding yourself busy, a companion can be a great solution.

Keep a Routine: Having something to look forward to is important to us all. Planning a routine for seniors is a great way to ensure they don't get bored or lonely.

Find a Fun Activity: Finding anything that seniors like to do will help with anxiety and depression a great deal but finding something that reminds them of when they were younger is especially beneficial.
If you or a loved one is struggling, you need to remember that you're not alone. The Senior Helpers team serving Crown Point, Merrillville, Hammond, and the surrounding areas are here to help. We can help in our facility with around the clock consistent senior care or overnight senior care. We can help at home with our age in place services such as 24- hour live in-home care, home caregiver services, and our senior companionship program. Our goal is to help seniors live happier, healthier, fulfilling lives; contact us and find out how we can help.