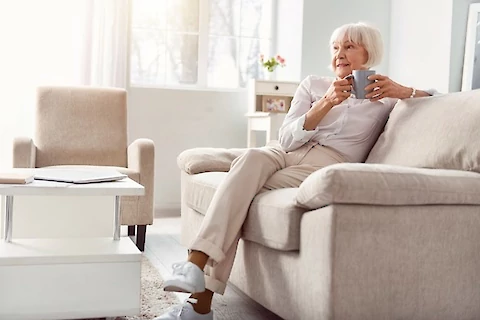 At Senior Helpers in Crown Point, we specialize in caregiver support. We know that caring for a senior loved one can be a daunting undertaking for many, so we are always on the lookout for ways to make the task a bit more surmountable.
One of the most important first steps a caregiver can take is to find ways to make the home more accessible for seniors. What this actually looks like in practice will vary depending on the specific needs of the senior in question, the layout of the house and how permanent adjustments need to be.
Each approach will be unique, but here are a five general tips to get you on the right path:
Make Doorways Wider
This is crucial if your loved one requires a walker, wheelchair or another mobility device. If a person cannot get from room to room in their own home, they feel trapped. It is important for your senior loved one to be able to walk through any door they encounter, so widening doorways should be the first step one takes.
Ramps are Key
Even if your loved one does not use a wheelchair, ramps may be easier for those who feel unsteady on their feet. Stairs are tricky for many seniors, so installing a ramp is a quick way to remove a source of frustration. Contractors are adept at installing ramps, but if a permanent solution seems like a lot, you can install a mobile, non-permanent ramp. Placing traction tape on stairs is also a simpler solution for more mobile seniors.
Make Sure They Can Use the Bathroom
Most people want to be able to do private tasks on their own for as long as they are able. Walk-in showers and tubs are a great solution. Safety strips add grip to the bottom of the tub and safety bars give seniors a place to hold on for balance. You can also use a bench that straddles the tub, allowing the senior to safely transfer themselves to the bathtub from a seated position.
Use Technology for Assistance
Technology can be a godsend when it comes to caring for seniors. Whether it's a medical alert device, a home monitoring system that allows a more independent senior to live without a caregiver, or a smart home personal assistant device that can call out pill reminders, using smart technology to meet the unique needs of your senior is just that...smart!
Get a Lift
Many seniors may need help getting up from their chair, up the stairs or out of bed. You can get self-powered seats that lift seniors when they're ready to stand. A Hoyer Lift will allow them to get out of bed, and chairlifts can help your loved one up the stairs. This can be a gamechanger when making the home accessible for seniors.
Ultimately, the goal should be to make a space that is safer, free of obstructions and more comfortable for all parties. At Senior Helpers, we know that senior caregiving can be very involved, which is why we offer caregiver support to those who need it in Crown Point, Merrillville, Hammond, and throughout Lake County. Call us anytime to find out what we can do to support you.