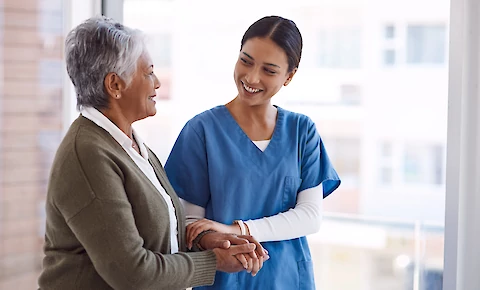 How to Help Seniors Managing Diabetes
Diabetes is a common chronic condition in seniors, affecting just over 25% of older adults. Life with both type 1 and type 2 diabetes requires consistent meal and medication times, as well as having opportunities for exercise. When you can't be there to help your loved one manage diabetes, there are three ways that a home caregiver can lend a hand.
Prepare Nutritious Meals
When you have diabetes, choosing the right foods can seem overwhelming and even limiting, but it doesn't have to be. Older adults with diabetes can face several nutrition challenges. They may have small appetites or no appetite. In some instances, they may be unable to shop for groceries. Chopping foods or lifting heavy pans may be difficult. A caregiver can help seniors remain independent and enjoy nutritious meals that they love.
Caregivers can help with grocery shopping or ordering, meal planning, and cooking. This support ensures that your loved one gets the nutrition they need throughout the day. Sometimes, it's just a matter of reworking some favorite comfort foods so that they contain fewer carbohydrates. Other times, it can be fun to try new recipes.
Assist with Medication Management
Most people living with diabetes have to take medication every day, often several times a day. This could be insulin injections and/or oral medications. It can be easy for your senior to forget to take their medications, but consistency is so important with diabetes. Missing a medication time can cause their blood sugar to spike or fall.
Our caregivers offer 24-hour home care and can be there to offer medication reminders at any time. You won't have to wonder if your loved one has taken their insulin or remembered to write down their blood sugar level. Caregivers can help them follow their doctor's orders, so they can continue to lead a healthy life.
Encourage and Support Exercise
Exercise is important for people of all ages, but especially for people managing diabetes. Being active allows insulin to work more effectively in your body. Exercise is an often overlooked part of diabetes management. Many seniors enjoy getting outside for a walk, but some don't want to go by themselves. They may be lonely, worried about falling, or have other safety concerns.
Our caregivers offer companionship, helping your loved one get the physical activity they need and want. Exercise can mean different things to different people, and we'll meet your senior's ability, wherever they're at. Whether it's doing some seated exercises, going for a leisurely stroll around the neighborhood, or checking out a new walking path, we can make it happen.
When managing a chronic condition like diabetes, consistent senior care is important. Whether your loved one needs around the clock care or help just a few afternoons a week, we're here to support them aging in place.
Senior Helpers serves communities in Northwest Indiana, including Crown Point, Merrillville, Hammond, Gary, Munster, and Lake County. Contact us today to learn more about our professional caregiving services.