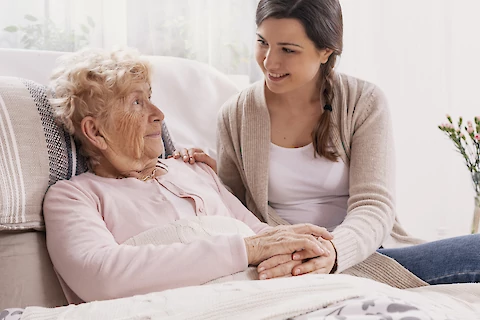 3 Resources for Caregiver Support
When a senior reaches the point where they need living assistance, the transition can be difficult both for the individual and for their loved ones. No matter how much you love someone, the responsibilities of caregiving can have a negative impact on your emotional health. Finding support and camaraderie is one of the best ways to not only make sure you are in the best frame of mind, but also that you can continue to enjoy and celebrate the time you have with your loved one. Fortunately, there are many sources of support for caregivers, from nationwide to local groups. Whether you are looking for an online or in-person group in a casual or formal setting, the opportunities for support are endless. Here are just a few options for caregiver support in the Crown Point area.
Northwest Indiana Community Action
The best place to find information regarding local support groups is Northwest Indiana Community Action. This government-funded program provides a plethora of knowledge and aid for caregivers. If you need help navigating transportation or legal concerns, their experts are there to help. Even if all you need is a bit of a break, the group can help you find respite care. They also have information on all local support groups in your area. While online options can be great, sometimes in-person support is what you truly need.
Memory Café
If traditional support groups are not your cup of tea, you might enjoy the casual alternative offered by Memory Café. This is a place to relax and interact for seniors suffering from dementia and their caregivers -- a café rather than a support group. Whether you would like to talk about the struggles you face or just relax and laugh, the members of this group are here for you. Memory Café creates a cheerful, fun ambiance conducive to having fun. After all, there is no reason not to continue creating beautiful memories.
Family Caregiver Alliance
An excellent company based out of California, Family Caregiver Alliance has branched out to help families and caregivers nationwide. Visit their website to find resources to help you deal with the technical aspects of caregiving. This group stays informed on local programs, assistance techniques, and policy changes so that you can enjoy your time with your loved one instead of stressing over the unknowns. Family Caregiver Alliance offers online support groups available to everyone. They even have a group specifically for the LGBT community.
As a caregiver, you are not alone. It can be a scary, lonely road, but it doesn't have to be. There are many people in your community, as well as throughout the country, who are facing the difficulties that come with caring for a senior. Finding the proper caregiver support allows you to focus on having fun and making memories with your loved one. For any questions or inquiries, please contact Senior Helpers of Crown Point today.