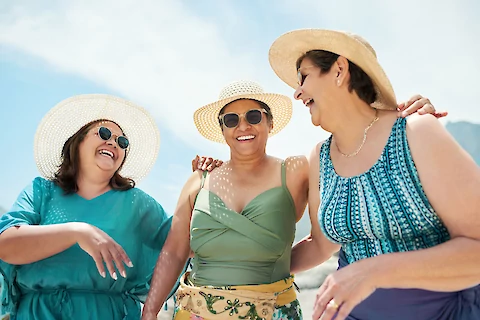 Why Wearing Layers Is the Secret to Staying Cool This Summer
Looking to stay cool this summer? For many of us, this means donning our bathing suits or wearing the least amount of clothing possible. However,  professional advice suggests that seniors should avoid extreme heat and sun exposure due to their body's inability to respond appropriately to high temperatures. For many seniors, medications and diagnosed illnesses can inhibit the body's natural response to respond to heat. But if you are planning on going outside or to an event, wearing the right clothing can make all the difference.
Best Fabrics for Summer
REI clothing company, an outdoor sports clothing and accessory store, recommends the following fabrics for summer. While they each have their pros and cons, consider first the type of weather you are experiencing. Is it dry or humid heat? What kind of activity will you be doing? Will you be gardening, walking, or enjoying an afternoon around the pool? Finally, what is the expected attire? All these factors can help determine what is the best type of materials for a given activity, time of day, or event.
Cotton: This material is very lightweight and soaks up moisture. However, it does not wick it away so it may leave you feeling damp. We often see these as T-shirts or as shorts or pants.
Nylon/Polyester: This is a great wicking material for absorbing and taking moisture away from the skin. Many athletes wear this material to keep the sweat off their bodies as they run or bike. 
Rayon: This material feels very similar to nylon/polyester but doesn't have the same wicking ability. It dries quickly and keeps the wearer cool. This material is often used in conjunction with other materials like nylon or polyester.
Linen: This is a natural, fiber product that performs like cotton. It provides a crisper look and is often used for dress wear. 
Long Sleeves and Pants
Many seniors like to wear long-sleeved shirts and long pants when it comes to sun protection and staying cool. This is a great way to ensure that your skin is not in direct contact with the sun's rays. Another great idea is to look for materials that are light in color since they have a tendency to reflect light. Also, try to find materials that have built-in SPF (sun protection factor) to help keep UV rays from penetrating the material. If you are looking for styles that go from day to night, consider fashions like a timeless and fashionable seersucker suit. 
Light Layers for Summer
Many seniors can benefit from wearing light layers in the summer. If you think about your daily routine, wearing a moisture-wicking fabric close to your skin can help keep you cooler in the heat of the day. Adding a long-sleeved shirt with SPF in it can make it a winning combination. Additionally, going from heat to air conditioning can be jarring to the senses. Having different types of layered fabrics on hand helps keep the body temperature in check. However, conventional wisdom suggests wearing loose-fitting clothing that allows air to penetrate for everyday wear can also help keep you cool on extremely hot days.
Senior Helpers of Greater Chicagoland are trained caregivers providing at-home assistance for seniors. One of the services that our caregivers can provide is helping seniors decide what is appropriate to wear given the weather. This seemingly small thing is very important as seniors may forget to prepare for events or changes in weather late in their day. For more information on the range of services offered, please contact us directly.