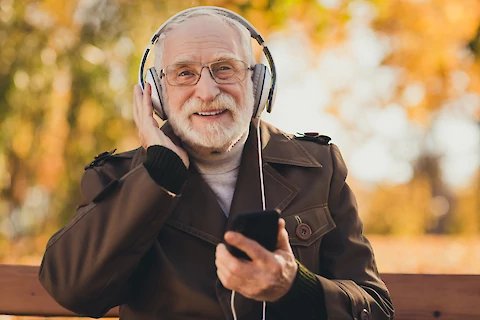 Top 10 Best Podcasts for Seniors
There is nothing as refreshing as listening to your favorite podcast as you carry out your daily chores or when you are relaxing on the couch. Podcasts refer to pre-recorded shows that you can access through such Apps as Stitcher, Apple podcast, Podcast Addict, Google Play Music, among other apps. In fact, there is a podcast about everything; health, politics, news, comedy, finance, books, music, sports, mindfulness, meditation, fashion, fitness, and so much more. You can download as well as listen to any podcasts depending on your interests.
We analyzed several podcasts for seniors available today and handpicked the following best among them.
Top 10 Best Podcasts for Seniors
1. Guided Meditations
This podcast is ideal for anyone seeking calm and insights from moments of quietness. The creator of this podcast is a psychotherapist and has developed it to help you reduce stress and anxiety as well as help you develop skills in your moments of calmness.
2. Stuff You Missed in History Class
As the name suggests, this podcast is all about historical events. If you love history, then this podcast is for you. You will find any historical figure or event in this podcast.
3. Planet Money
The Planet Money podcast focuses on the simplest ways of making income and the challenges involved. It is diverse as well as allows for engagement as you read what other people have had to go through to get to where they are.
4. 99% Invisible
If you are passionate about the designs available in the world, then this podcast is ideal for you. It brings out the origins of designs that people rarely know. This podcast also digs beyond the known architecture to bring out exciting stories backing up those designs.
5. Aging in Full Bloom
This podcast covers all matters of wellness surrounding old age. If you need some empowerment, extra energy, or entertainment, then this podcast is for you.
6. Freakonomics Radio
Freakonomics Radio has content about almost everything in life, be it health, home, leisure, entertainment, and more.
7. The Alton Browncast
Are you passionate about cooking? Brown is the brain behind The Alton Browncast podcast; he is a renowned chef and a well-rated food network star. Tune in to this podcast for the latest culinary trends, recipes, tricks, as well as tips.
8. Criminal 
Criminal is a podcast for any senior who likes to listen to stories about crime. The interviews carried out on this podcast are real. You get to hear from the victims of crime, learn the extent of crimes, as well as listen to the perpetrators of the crimes, whether wrongly accused or guilty.
9. This American Life
This American Life podcast has always been leading in its downloads on Stitcher; over 2.5 million people download it every week. This podcast offers stories about the culture, society, or general daily life in America. You will cry in one episode and laugh in another.
10. Better Health While Aging
In this podcast, Dr. Leslie Kernisan and her guests talk about the everyday health challenges faced by seniors. They also discuss ways of avoiding such health challenges and how to manage them. Some of the topics they discuss include long-term care, Medicare, estate planning, hearing loss, and more.
In Summary 
Podcasts will keep you entertained, help you learn, keep you updated, as well as improve your well-being. You can contact us today for any assistance with eldercare.