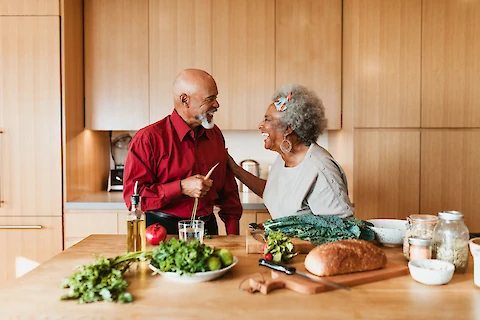 Improve Senior Nutrition with Help from Home Caregivers
Having an excellent home caregiver can help a senior improve their quality of life. One way that caregivers improve quality of life is to make sure that senior nutrition is considered, with any nutritional needs being met on a daily basis. Nutrition is important at every phase of life. If seniors need assistance in getting the proper nutrition through diet or supplements, caregivers at Senior Helpers in Des Plaines can help.
How Can Caregivers Help Seniors Maintain Sound Nutritional Habits?
Caregivers can help seniors ensure their nutrition in many ways. The needs of each senior will be different based on the person's ability, health conditions, and activity level and lifestyle. Medical conditions should also be considered when looking at nutritional needs.
Caregivers are there to help each senior ensure that their nutritional (and other needs) are met on a daily basis. The following are some ways that caregivers can help ensure that seniors are getting the daily nutrients they need.
Assistance with Shopping
Many seniors don't drive anymore, which makes getting to the store without assistance from a taxi, car service, rideshare, friend, or caregiver quite a challenge. Many seniors do not regularly use technologies that would help them get grocery delivery services. Having a caregiver who drives and is willing to take them to store or can do the shopping for them can help ensure that they are purchasing enough quality foods to eat on a daily basis.
Other seniors may have trouble lifting heavy bags of groceries into and out of the car or putting the groceries away. Caregivers can help with these tasks to make grocery shopping less of a chore.
Cater Meals to Dietary Restrictions
Many seniors may be on special diets due to health problems. Caregivers can keep track of these restrictions and cook meals that meet their dietary needs. Whether someone has diabetes or needs a low-salt diet, caregivers can provide assistance in remembering and sticking to that person's preferences and health needs.
Cooking Fresh Meals
For many seniors with mobility or health issues, cooking fresh and healthy home-cooked meals can be a challenge. Many seniors resort to frozen meals, which often have additives, preservatives, and extra sodium. Or, they order unhealthy takeout meals just to make mealtime easier for themselves. Caregivers can help by cooking fresh meals and then packaging and freezing individual portions that can easily be heated up as a healthy alternative. When these meals are available and easy to prepare, seniors are more likely to make healthy food choices that will benefit them in the long run.
Maintain and Track Weight
Doctors might recommend that seniors keep a weight log to ensure that they are not slowly losing weight and becoming malnourished. A caregiver can help weigh the senior each week and keep a log of their weight over time. They can also help look for signs of malnutrition or nutrient deficiencies that can lead to additional health problems down the road.
Conclusions
Having a dedicated caregiver from Senior Helpers of Des Plaines helps ensure that senior nutrition is not an issue as your loved one ages. Caregivers are vital lifelines for many seniors, and they are there to help ensure both the availability of and the ease of cooking and consuming healthy foods. This will help seniors avoid malnutrition and mitigate other health problems that often come with a poor diet.