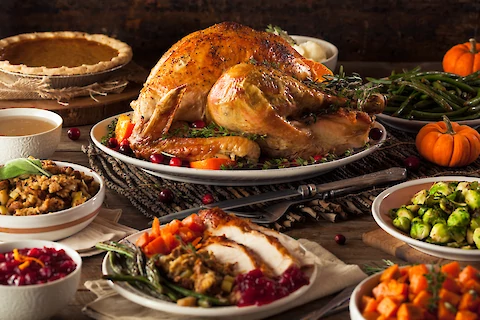 This Thanksgiving will likely look a bit different from the last one, in light of COVID-19 and social-distancing requirements. However, this doesn't mean you should put Thanksgiving on hold! There are many reasons to celebrate Thanksgiving in 2020, family being one of them.  With these tips, you'll be well on your way to hosting a fun and memorable Thanksgiving meal. 
One Cook, One Location
Instead of going from house to house to celebrate Thanksgiving, why not stay at one household? Just be sure to keep the menu simple and let your expectations take a break. You can even assign specific times to different groups of people so that you get to celebrate the day with everyone. 
Hand Sanitizing Stations
Have hand sanitizing stations set up throughout your house to help your guests stay safe. You can even have the grandkids create fun signs to remind everyone to use the Purell! 
Virtual Dinner With Family
If you'd rather not invite anyone over, consider hosting a virtual Thanksgiving. Decorate your table with an autumn bouquet, candles, and a festive tablecloth. Encourage others to do the same. In this way, you'll be able to connect with your family and still eat a meal together despite the distance. Treat it as a regular Thanksgiving dinner and it's sure to be a success! 
Share Time-Honored Recipes
Remember that cookie salad Aunt Bess used to make each year? Why not share the recipe with your family so the memory of that special dish stays alive? You can even have a virtual bake-off, with each family offering variations on a recipe. This practice may even become a favorite family tradition. 
Hosting Thanksgiving Dinner Outside
If the weather agrees, bring the turkey and stuffing outdoors. Whether you have a table, patio, or picnic blanket, hosting Thanksgiving outdoors is sure to be a memorable experience. You can even have a Thanksgiving bonfire and toast wieners and marshmallows. Just remember to bring out a thermos of hot cocoa! 
Seating Arrangements
Have a plan in place for where guests will sit. Spread people out and don't be hesitant to have different tables set up to accommodate your entire family. Keep disinfectant wipes handy for when the dinner moves to the living room so sanitation is top-of-mind.
Fall Face Masks
Make wearing a mask fun by ordering fall-themed face masks! There are numerous designs out there that are sure to bring a smile to everybody's face. Face coverings featuring autumn leaves, pumpkin spice lattes, Pilgrim turkeys, and even an aerial view of a Thanksgiving dinner will contribute vastly to the festivities.
We want this time to be as enjoyable as possible. Our in-home care providers can help you with anything you need so you can celebrate Thanksgiving without stress. Feel free to contact us for any information regarding senior companionship and live-in home care in Des Plaines, Elmhurst, Oak Brook, and the surrounding areas. You are our top priority!