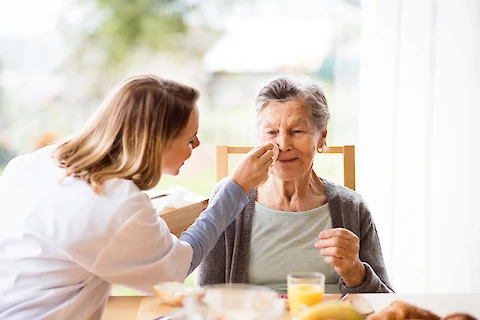 Cleaning Services Are Helpful, But Companion Services Care
Taking care of our elderly loved ones is a lot of work. As time passes, their ability to do what they used to do around the house decreases and it's up to us to pick up where they left off. When the goal is to keep them in their homes, it's important to ensure that their house is clean and everything is in its place through cleaning services. 
Our seniors are used to living a certain way. They may be used to getting the dishes done after every meal or sweeping off the porch every morning. If they notice that these things aren't done, they may feel uneasy, or uncomfortable enough to do the job themselves. If they aren't physically able to complete these jobs on their own, they can fall. 
You do have options and choosing the right one for your situation is absolutely necessary for your peace of mind, and most importantly, their safety and comfort.
Benefits Of Cleaning Services
Hiring cleaning services can be very helpful, especially if you are able to care for their personal needs, such as helping them in and out of the shower or setting up their medication and reminding them to take it. 
It could also be a great option for seniors with a heavy social calendar. If mom has social groups, lunches with girlfriends, and any other social obligations, then maybe that's what she should be doing with her time, and cleaning services can free her up to enjoy her retirement. 
The downside to hiring a cleaning service is that those who are helping you can't grow along with your loved one's needs. They are hired to complete cleaning tasks that, perhaps, your loved ones could still do. Unfortunately, a cleaning company isn't prepared to aid your loved one if they were to find themselves in distress.
Benefits Of a Caregiver and Companion
A professional caregiver, or companion, is an excellent option for those of us who just don't have the time to be of service at all times. Your job, partner, and children also need you. You have a home to care for as well as your loved one. A companion isn't a nurse and they aren't there to simply clean. A caregiving companion is there for your loved one when you are unable to be.
A caregiver can do the lighter chores that your loved one cannot do, but they also act as a medical liaison for doctor's appointments you are unable to attend, offer physical help if your loved one has trouble walking or balancing, and help them cook their own meals. A caregiver's goal is to encourage the seniors to continue doing things for themselves, to retain the chores they have always completed on their own, as the caregiver observes and offers their support when it is needed.
Benefits Of Retaining Chores
Encouraging our loved ones to continue to be active and to continue to meet their responsibilities not only keeps them moving but allows them to hang on to their dignity and pride. Senior Helpers of Des Plaines, Chicago, and Lake Forest offer a Free In-Home Assessment to determine the level of care that your loved one needs.
Members of the family and caregivers can work directly with information from doctors to discuss which chores our loved ones can retain on their own, or with help, and decide which ones should be done by another person. For example, your loved one may still be able to do the dishes, but can't move the couch to vacuum. Maybe they can have coherent discussions with their doctors, but forget the smaller details that could be important.
Please, contact us at Senior Helpers of Des Plaines, Chicago, and Lake Forest, with any questions you may have. Let go of your worries. We're here to help.