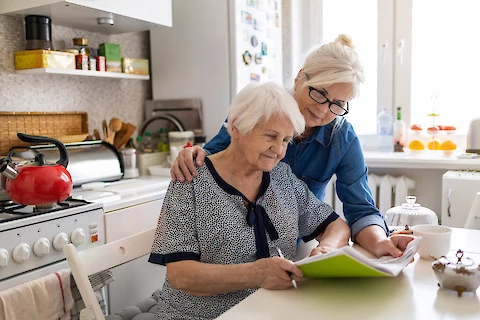 5 Helpful Steps Towards Promoting Senior Productivity
As we age, it's easy for us to lose interest in the future. Often, our sense of control, purpose, and usefulness is stolen from us. This is due to the changes in our bodies, minds, and societal expectations. Trying to stay active physically and mentally can feel like an uphill battle with few obvious benefits. This is why it's important to engage in intentional productivity. Below are 5 helpful steps towards promoting senior productivity.
Help your loved ones fill their day with purpose. Here are a few ways to help promote senior productivity within your circle and let them enjoy their life as they age:
1) Dream and Visioncast
First, you have to know what they care about. Are there dreams they've had since they were young, but never pursued? Interests that they aren't currently investing in? Spend time talking with them, allow them to explore these ideas. These can restore a sense of dignity and humanity, regardless if they will be able to achieve these dreams in the way they always hoped they would.
2) Choose a Goal
Once you've spent enough time getting to know your loved one's passions, and hopes for the future (however long they may have been holding them inside), you can begin "planting the seed."
Choose a dream that can be adapted easily to their current lifestyle and capabilities. Think of a few different ways your loved one can engage with this dream. It can be intimidating to consider pursuing a dream you gave up on long ago, so introduce the idea gently.
"You know, when you were talking about your love of books and writing the other day, it made me think about a local writers club I heard about from a friend. Do you think you would enjoy sharing some of your poetry with other writers?"
3) Create a Plan 
Once a goal has been chosen, it's just as important to make sure there are measurable benefits as well as achievable steps within that goal. To continue with the same example, if your senior companion decides they would like to share their poetry, it's important to talk about expectations. How often would they like to meet? Are they looking for constructive criticism or more of a support/sharing group? This will not only help you decide together what the smaller goals will be but it will also shape the criteria you will use when looking for a group to join.
4) Choose Rewards
Of course, there need to be tangible benefits for this activity. Otherwise, it will become just another thing to check off of their to-do list. Creating reward systems can be challenging because every person is motivated differently. Take time to discover if whether your loved one is mainly internally or externally motivated. This will help you narrow down the reward options.
Decide together what would be a complimentary reward for every step taken. For example, researching different writers groups and talking with the leaders might mean an extra hour of their favorite TV show during lunch, while joining a group and attending their first meeting might mean a special outing (a favorite restaurant, or trip to a local park/garden).
5) Keep Focused and Encourage
Finally, don't be afraid to change things up. Helping your senior companion stay active is, in the end, about their satisfaction. Consent is incredibly important, so they maintain a sense of self-control over their lives. Keep up a continuous conversation about how they feel things are going as well as what they like or don't like, to make sure this activity is truly beneficial.
Senior Helpers of Des Plaines
For more tips, support, or additional resources, Senior Helpers of Des Plaines are here to help. Contact us through our website.