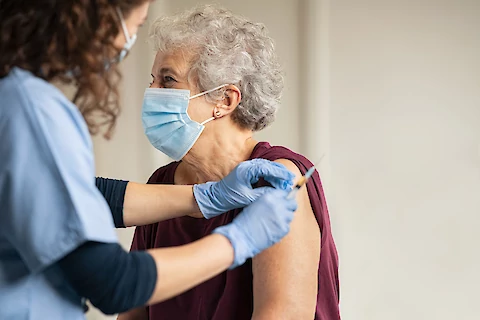 5 Immunizations and Vaccines That Are Important for Senior Adults
Vaccines are very important to senior adults because they protect their immune systems from different forms of infection. Senior citizens in-home care institutions need vaccines more because they live in populated settings and are more prone to communicable diseases.
This Senior Helpers Des Plaines' post highlights five immunizations and vaccines that are important for senior adults:
1. COVID – 19 Vaccine
Senior adults are more vulnerable to COVID-19 because of their weak immune systems. Due to their old age and mobility problems, the United States introduced in-home vaccination, specifically in Chicago, which is known to be a city with closely knit households.
The three approved COVID-19 vaccines (Pfizer – BioNTech, Johnson & Johnson, and Moderna vaccine) are the most important vaccinations for senior citizens. The three vaccines have 86% efficacy in protecting senior citizens against COVID-19 and its symptoms. Pfizer-BioNTech has been singled out to be 95% effective.
2. Influenza Vaccine
Influenza is commonly referred to as flu and is a respiratory tract infection associated with coughing, high fever, and fatigue as some of the main symptoms. There are two main vaccines for senior citizens aged 65 years and above that boost the immune system response. It is important to consult with the doctor before getting a flu shot about any allergies or severe reactions to the flu vaccine.
According to the Illinois Department of Public Health, seniors should get a flu vaccine annually. This is because they are more vulnerable to the Influenza virus and other chronic health conditions.
3. Shingles Vaccine
Shingles Vaccine is an infection that is caused by the varicella-zoster virus, a virus that causes chickenpox. In cases where a senior adult has had chickenpox infection, the virus remains dormant in the nerve tissues, and there are high chances of the virus reactivating as shingles.
Zoster Vaccine Live is one of the shingles vaccine variants that prevents some senior adults from having a stroke by about 16%. There is only one shingles vaccine that is approved in the United States.
4. Pneumococcal Vaccine
Pneumococcal is a vaccine that may prevent Pneumonia. Various types of this vaccine are administered depending on the age of the person to be vaccinated and if they have any underlying medical conditions. The current recommendations are administering PCV13 to senior adults 65 years old and vaccination of PPSV23 after one year. Adults aged 65 years and above should be revaccinated every five years to strengthen their immune systems.
5. Tdap Vaccine
Tetanus, Diphtheria, and Pertussis (also abbreviated as Tdap) is a vaccine that can prevent whooping cough (pertussis), tetanus (a bacterial infection that affects the muscles), and Diphtheria, which is a heart condition.
In the case of senior adults who have no grandchildren, it is recommended that they also get the Tdap vaccine after every ten years. Some more senior adults get infected with pertussis due to their weak immune systems.
Get Your Senior Adults Vaccinated and Immunized
It is important to discuss with the doctors the vaccinations that are essential and correct for a person and schedule the vaccines to prevent infections and maintain a healthy lifestyle. At Senior Helpers in Des Plaines, we have a competent team of well-trained Caregivers who have the ability to help you and your loved one with transportation services to and from vaccine appointments and other activities. For more inquiries about our services, you can contact us, Senior Helpers in Des Plaines, and learn more about the wide range of services that we offer to our beloved senior adults.