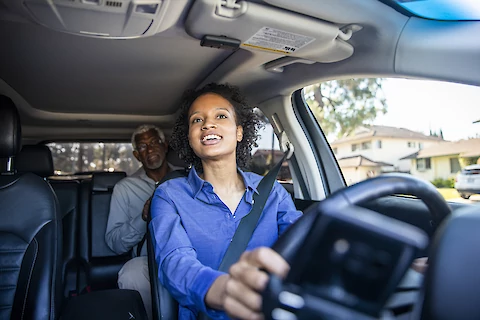 Tips to Guide Seniors to Use Ridesharing Services Such as Uber and Lyft
For most seniors in the Chicagoland area, safe and reliable transportation is critical to staying independent and healthy. After all, they need rides to meet their doctors, run errands, and meet family and friends. Most people who care for their senior parents are not always around to take them to these errands, especially when you also have work to do. Happily, ridesharing services such as Uber and Lyft have made getting around easier and more convenient.
Seniors who can no longer drive, want a break, or feel uncomfortable driving, have new options to get wherever they want to be with these ridesharing services.
Contrary to popular belief that companies like Uber and Lyft are only for the younger generation, they can help seniors move around, and taxis seem to be fading. Lyft and Uber offer a degree of freedom that most seniors crave. The cars pick them up, whether at home or otherwise, and take them wherever they wish.
The ordering methods also simplify your life when you arehelping a senior parent get to appointments and other events. When you order, you can view how long an order will take and the cost of the ride. This makes it accessible even before the senior board the car. Find more about ridesharing services for seniors below.
How to Get Your Senior Parent Started With Ridesharing Services
If your senior parent is comfortable using a smartphone and ordering things online, it is pretty simple to get an Uber or Lyft. The service depends on using the riders' app, putting the destination, and paying for it. The payment method can be a debit or credit card that you can sync with the app, the number, or the phone put each time you place an order.
Since phones and computers may be foreign to some senior parents, you can use other options to get ridesharing services. Uber made its services available for people without phones starting in 2017.
It allows you to get your parent's service right from your smartphone. Once you order the ride, the car will pick up the seniors from their location. 
Be Alert during Rides
Ridesharing has become a new part of modern culture, and most seniors are probably eager to try it. It is essential to take caution before letting your parent on these rides.
For example, the price varies depending on certain times of the day, premium vents, or even locations. Traditionally, people paid fixed rate prices when using taxis or public transits. Hence, they may be confused with the dramatic rate changes with ridesharing services.
Luckily, violence against passengers is extremely rare. However, as you let your seniors ride with strangers, you would get to stay alert with the people they ride with.
Start Helping Your Parent Move Seamlessly With Ridesharing Services Today
The first step to getting into a ridesharing program is having a smartphone and the proper app on the device. Whether your phone uses Apply Apple Store or Google App store, you can download Uber or Lyft apps on your phone.
After downloading the app, sign up by creating a customer profile that matches your information like first and last name, phone number, and email address, and create a unique password.
Uber and Lyft don't display your details with others when using the app. It only shares your last name and phone number to assist the drivers in getting to the pickup location.
At Senior Helpers of Chicago, we can advise clients who need to know more about ridesharing services. Our caregivers are technologically capable of ordering Ubers either on the senior's phone or via Senior Helpers of Chicago. 
Contact us today to find more information.