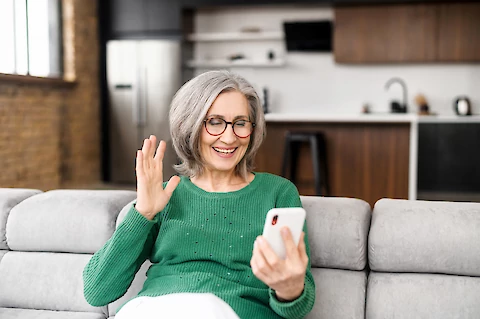 How to FaceTime the Grandkids!
FaceTime is the most common way of video chatting today. It enables seniors to create a long-distance bond that helps in building a strong relationship with their grandkids.
Despite the challenges of distance and hectic schedules, seniors can find ways to interact with their grandchildren. For grandparents who wish to see their grandkids, the greatest hurdle is distance. Nevertheless, grandparents must maintain contact with their grandchildren sinceit provides them with a mental and emotional boost. To make up for time constraints, grandparents are increasingly using new technology with their grandchildren, such as video chats and FaceTime.
According to a 2019 AARP poll, 38% of American grandparents use video chat to speak with their grandchildren regularly. Here is a guide on how to FaceTime the grandkids.
Step-by-Step Instructions to Make a Call via FaceTime
You can use itover cellular or Wi-Fi on supported iOS or iPadOS devices. Here is a step-by-step guide to help you communicate with your grandkids:
Sign in to your phone's FaceTime app and make sure it is turned on.
Select New FaceTime from the drop-down menu.
Do one of the following to add callers to the New FaceTime window:
•    Enter the person's email address or phone number who you'd like to call. You may have to press Return.
•    You may just type the person's name or choose them from Suggested if you have a card for them in the Contacts app. See Add Contacts while using the app for further details on how to do so.
Click the app to begin a video call. To begin an audio call, pick FaceTime Audio from the drop-down menu. Alternatively, you can utilize the Touch Bar. You can choose whether to make an audio call or a phone call if you choose FaceTime Audio and your Mac is set up to make phone calls. The camera is automatically turned off when you're on an audio or phone call.
If you make a FaceTime call, you can pause the call, change your view, add more people to your call or even end the call. During the call, you can also share some videos or music with your grandkids.
In case you make a call and it goes unanswered, you can click the Message button and send a short message through the message.
How to Join a Call on Your Phone from a FaceTime Link
In the FaceTime app on your phone, select Join after clicking the link to the FaceTime call. The call begins if you initiated the FaceTime connection. If not, the call's originator can immediately let you in; other callers (who are using Apple devices, have been approved, and have been on the call for at least 30 seconds) can also approve or reject requests to join the call.
Tips to Make a Successful Video Call
Remember that the number of calls you make or the length of your connection is not an indicator of how much your grandkids love and care about you. Recognize that some calls may be longer than others and that some very brief check-ins. However, with the following tips, you are assured of having a successful quality time with your grandkids:
Go somewhere quiet
Certainly don't yell into the phone
Face a light source
Don't hold the camera too low
Don't hold the camera too close to the face
Senior Helpers of Chicago provides a wide range of programs and services to help people age in place. We are the leading in-home senior care company in the city. We provide a wide range of home care services, from companion care for seniorswho require daily assistance to in-depth specialized care for people suffering from Alzheimer's, Dementia, Parkinson's, as well as other chronic conditions.
Don't age in loneliness. Contact us today to begin a journey with us!