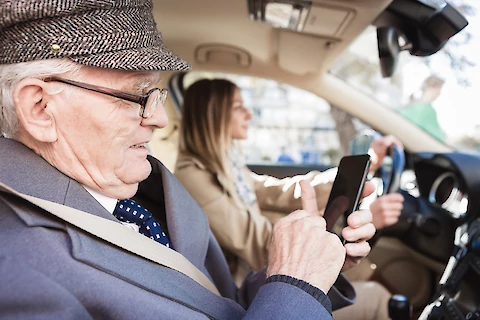 The holiday season is a time of hustle and bustle, with scores of people taking to the roads to do their shopping, visit family and friends, and check out festive attractions. If your senior parents are still active enough to drive, this increased traffic could throw them for a loop. Even if your parents feel comfortable driving during normal conditions, the increased holiday traffic could cause them to feel anxious and even unsafe. Fortunately, there are some things that you can do in order to help your senior loved one navigate the busy roadways in and around the Pocatello, Blackfoot, Shelley, and Idaho Falls areas. Here are a few tips to help your senior parents deal with aggressive holiday traffic, courtesy of Senior Helpers:
Drive Together to Go Holiday Shopping
One of the best ways to take the stress off of your senior loved one is to offer to take them shopping for holiday gifts. With you at the wheel, your parents don't have to feel overwhelmed by the prospect of increased traffic and they can still pick up all the gifts and holiday essentials they need. Plus, you can enjoy some quality time together as you traverse the stores.
Plan Trips Out During Off-Hours
Most roadways will get busier as the day progresses, reaching their peak during rush hour or after people get off work. You can bypass some of the traffic by encouraging your senior loved one to make their trips out during the early morning hours. Plus, with the advent of early nightfall, planning trips out early in the day will keep your senior from having to worry about driving at night. This isn't always possible, but if your parent is intent on getting out to do their shopping solo, suggest that they plan their shopping during an off-time.
Offer to Run Errands For Your Senior
Holiday shopping is one thing, but if your senior loved one needs to get out to pick up essentials on a weekly basis, they could find themselves very annoyed and frustrated by the volume of traffic. Offering to run those essential errands for your loved one can keep them safe at home so that they don't have to traverse the busy roadways on their own. Another great option is to set up your senior loved one with a grocery delivery service. Many of these services will deliver a wide variety of home essentials, from fresh produce to cleaning supplies and even medications. They can also deliver as needed during the week, usually with very short notice.
Senior Helpers Provides Premium In-Home Caregiving Services
Holiday traffic can be overwhelming even for veteran drivers - but with a little bit of forethought and assistance, your senior parent will feel comfortable and relaxed. Senior Helpers thrives on helping senior loved ones settle into new routines. Contact us today to learn more about our premier in-home caregiving services for seniors in and around the Newdale, Rexburg, Rigby, Ririe, Saint Anthony, and Sugar City areas.