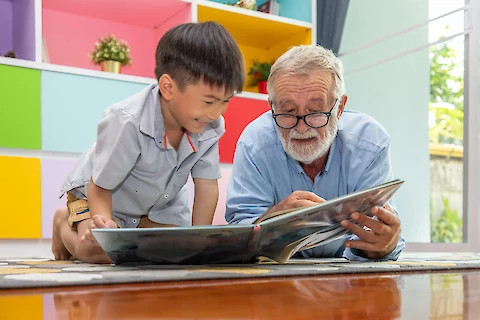 Most seniors have lots of time on their hands, and they may sometimes struggle with finding things to do. They may also keep to themselves, socialize less, and may be less physically active than younger people. Volunteering could fill this time and make them active and social.
Many volunteering opportunities exist in Hillsborough County, FL. Volunteering helps reduce isolation, improves mental cognition, is physically engaging, and you can learn something new as you fill up your day. But to get the most out of it, you should try a volunteering opportunity that matches your interests or hobbies. 
Seniors who enjoy teaching or interacting with children can volunteer at the following schools, after-school programs, as well as other related organizations:
Become a Mentor at the Hillsborough County Youth Center
The Hillsborough County Youth Center offers many youth activities, amenities, and events. It is always open for voluntary contributions, such as money, goods, or services. It is also an excellent place for seniors to stay engaged with the community while passing down knowledge to the kids, steering them in the right direction.
Tutor Online
Seniors don't have to leave their homes to volunteer. In fact, they can mentor or tutor kids online, to socialize, stay engaged, and be mentally stimulated.
Help Kids at the Joshua House
Seniors can help kids feel safe and create a warm and welcoming environment for neglected, abused, as well as abandoned children at the Joshua House. It helps children between 6 and 17 years old and is almost always looking for volunteers. It is also one of the best ways to make an intergenerational difference.
Volunteer at Metropolitan Ministries or TRIBE
Metropolitan Ministries serves homeless and at-risk families in underserved communities. Seniors can volunteer as after-school tutors to children of all ages.
TRIBE is a community-focused nonprofit that focuses on the well-being of children and families. Seniors can volunteer to tutor, read to the kids, as well as help in various activities to support families.
Help Kids in Need for Guardian Ad Litem
There are very many abused, neglected, as well as abandoned kids in Hillsborough County, subjects of court proceedings. By joining the Guardian Ad Litem program, seniors can volunteer to positively impact these kids' lives by representing and advocating for their best interests.
Volunteer at Readers in Motion
Readers in Motion is a tutoring program connecting seniors with students who need encouragement and academic support. Seniors can volunteer to provide reading support and assistance to students from kindergarten to third grade.
How to Start Volunteering in Hillsborough County
Follow the steps below to get started on volunteering.
Decide which causes you care about.
Identify the skills and knowledge you can offer.
Create a volunteer resume.
Determine how often you can volunteer.
Research volunteering opportunities in your community through volunteer websites that list out potential opportunities.
Contact schools and organizations directly.
Fill out volunteer forms.
Complete any required training.
If you don't mind traveling, you can also find voluntary opportunities through national and international organizations. The organizations include AARP, Boy Scouts and Girl Scouts of America, and Boys and Girls Club of America.
There are many more senior volunteering opportunities in Hillsborough County. Besides the ones listed above, seniors can also assist a local politician they support, help clean up the environment, run local food drives, etc. It also depends on which cause aligns with their interests. 
Consider In-Home Senior Care
Hillsborough County has more than enough opportunities to stay active past retirement age. But, if you're not in a position to volunteer forany cause due to a chronic condition, you may benefit from the services offered by Senior Helpers Hillsborough.
At Senior Helpers, we are dedicated to offering various in-home care senior services, from companion care to in-depth specialized care for those with chronic conditions. We offer services to seniors living within Hillsborough County including Sun City Center, Riverview, Brandon, Valrico, Tampa, Lithia, and many more. We pride ourselves on being declared an "Essential Service" by the Florida Department of Health and AHCA.
Contact us to learn more about our in-home senior care services.