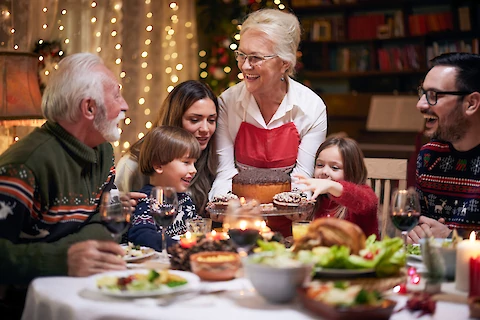 Your Elderly Mom Hosts the Holidays—Is It Time for Someone Else to Host?
Many families in Pinellas and Oldsmar usually organize family get-togethers and dinners to ensure that family members get to spend time together during the holidays. Great-grandmothers, mothers, and grandmothers are used to hosting such get-togethers. Many seniors only allow their adult children to host holiday dinners if only the adult children have families and big houses.
However, planning and hosting these dinners can sometimes be very draining to elderly loved ones. There are a lot of tasks to do before and after get-togethers like planning, shopping, cooking, and cleaning. All this can be quite hard for an elderly mom. So, is it time to request your elderly mom in New Port Richey to let someone else plan and host the family get-togethers?
Is It Time for Someone Else to Host Family Get-Togethers and Dinners?
As the years go by, more and more people attend family gatherings since the family is growing. If you notice that the event planning, cooking, house clean-up, and shopping is becoming too much for your elderly mother in Land O' Lakes, it may be best to let someone host the family gathering this year.
Some signs indicating that hosting such get-togethers is too much for your elderly mom include deteriorating health, dimming vision, and the presence of chronic illnesses. You should also take the burden off your mother's shoulders if she often gets tired easily and if carrying out daily activities is becoming difficult for her.
Discuss the Matter with Other Family Members
Discuss the matter with the other family members to confirm whether letting someone else host family get-togethers is a good idea. And if the whole family agrees, they will help you decide what to do instead. You can assign specific family members to host the gatherings. Furthermore, your family members can also provide sound counsel on how to deliver the suggestion to your senior mom without hurting her feelings.
Present Your Concerns to Your Seniors in Palm Harbor and Request Them to Let Someone Else Host the Get-Togethers
After brainstorming with the rest of the family members, present your concerns and solutions to your elderly mother in Hudson. If she agrees with your idea, inform her of your plans for the coming family get-togethers. However, be ready for rejection since your seniors in Wesley Chapel might think your suggestion may lead to changes in traditions. In case your seniors reject the resolution, do not insist. Instead, you can offer some alternatives to make hosting manageable. For instance, someone else should do or help with the planning, shopping, cooking, and cleaning.
Consider Living Assistance for Your Elderly Mother
If your elderly mother in Trinity has difficulty hosting family get-togethers and dinners, she probably needs caregivers. The caregivers at Senior Helpers Newport Richey can help your loved one in Tarpon Springs with daily chores. Senior Helpers will additionally offer her specialized care if she has a chronic illness. We serve the people living in Pasco, Tarpon Springs, New Port Richey Hudson, Palm Harbor, Land O' Lakes, Trinity, Hudson, Wesley Chapel, and Oldsmar. Contact us now to schedule an appointment.