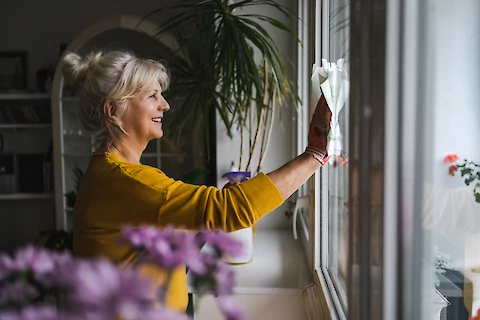 It's that time of year again when spring cleaning is on our minds. For many of us, the thought of cleaning our home from top to bottom can leave us feeling a little overwhelmed. It doesn't have to be that way. Senior Helpers of West Pasco, your in-home senior care company, is here to provide you with simple tips and tricks to help you get your home spick and span. Read on to learn more about spring cleaning and how to deep clean your home when you're feeling overwhelmed.
What is Spring Cleaning?
Spring cleaning is the annual deep clean of the home where you give the entire house a thorough scrubbing to wipe away the winter's mess. This includes everything from dusting and vacuuming to window washing and baseboard scrubbing. The ultimate goal is to get rid of all the dust, dirt, and grime that have built up throughout the year.
Benefits of Spring Cleaning
Spring cleaning has many benefits including a sense of accomplishment and rejuvenation. It brings joy to our living spaces and relieves the stress of cluttered rooms. Not only does spring cleaning make your home look and feel cleaner, but it can also help eliminate allergens like dust and pet dander. It also helps to create a safer living environment and can reduce the risk of injury.
Preparing for Spring Cleaning
It is smart to be prepared and organized before you start spring cleaning. Gather all the supplies you need including buckets and mops, rags, and a vacuum cleaner. Set a reasonable schedule for yourself and plan your attack, making sure not to set unrealistic goals. Break the tasks down into manageable chunks so you won't feel overwhelmed.
Spring Cleaning Room by Room
It is best to tackle spring cleaning one room at a time. In the kitchen, start by wiping down all the counters and appliances then move on to washing dishes and scrubbing the floor. In the living room, vacuum the furniture and floors, dust the bookshelves, and wash the windows. Launder the sheets and curtains in the bedroom then vacuum the floors and dust the furniture. Bathroom tasks include scrubbing the tub, sink, and toilet, and finally mopping the floor. Clean out any clutter and sweep up the debris in the garage to finish your spring cleaning.
Tips and Tricks
Take breaks throughout the day to give yourself a mental break and prevent burnout
Enlist the help of family and friends to make the job easier to manage
Clean up clutter and donate unwanted items
Use natural cleaners whenever possible
Wear protective gear, like gloves or a mask, when dealing with harsh chemicals
Senior Helpers is Happy to Help With Spring Cleaning
Spring cleaning can be an overwhelming task, but with the right tools, tips, and tricks, it doesn't have to be. With help from Senior Helpers in the Pasco/Pinellas, New Port Richey, Land O' Lakes, Hudson, Wesley Chapel, Trinity, Tarpon Springs, Palm Harbor, Oldsmar areas, you can give your home a deep and thorough clean that will leave it looking and smelling fresh. Call Senior Helpers of West Pasco for more tips and tricks for a successful spring cleaning experience.