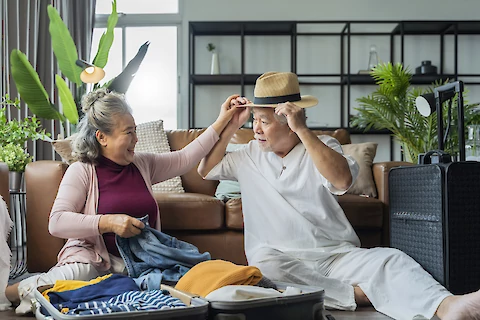 The extended summer holiday and the long weekends are usually perfect for our loved seniors to travel for leisure or visit family and friends. While these are perfect ideas to keep your senior client happy and relaxed, weekend travels could pose challenges like extreme traffic, stressful itineraries and travel schedules, and the potential cancellation of holiday plans. 
However, we want to explore challenges you can face with travel assistance plans of your senior client over the three-day weekend. We shall offer you tips and ideas to overcome these challenges and make them successful. 
HOLIDAY TRAFFIC 
Holiday weekends have high traffic snarls because many people are traveling. People make early reservations on public transport, and finding a space could be a hustle. Be thorough with planning and making the right decisions early for any eventualities. 
If your loved one intends to use their private car, assist in choosing more than one route to the intended destination. Keep yourself updated as you drive across the streets of the New Port Richey and change routes as the need arises. 
If you use mass transit, assist your senior citizen in making reservations early and print out receipts. Book a few days ahead and ensure to arrive early on the day of travel to avoid delays in traffic jams that could make you miss a flight. 
STRESSFUL TRAVEL SCHEDULES AND ITINERARIES
The whole idea of traveling with your senior or hosting visitors at home is to help them have fun and relax. But hiccups may come along the way, especially if you overlook some issues that become a nightmare during the actual day of travel. Areas like Palm Harbor can be prone to extreme weather conditions that might bar your client or their visitors from traveling. 
We recommend taking further preparation measures to assist the senior loved one with itineraries and details of the sites you plan to visit. Understand any fees, visitation hours and restrictions, and other basic requirements. Prepare for extreme weather during the planned travel dates. 
POTENTIAL INTERRUPTION/CANCELLATION OF HOLIDAY PLANS 
A trip interruption hinders your client from proceeding with their trip as planned, forcing them to return home. Common causes of this incident include: 
Travel alert warning 
Incremental weather 
Strike at the airport or disaster
While factors that interrupt and cause trip cancellation are beyond our control, we advise taking travel insurance cover for delays, cancellations, or interruptions. The insurance will reimburse your airport lunch and cover thousands of prepaid trip expenses incurred from the cancellation. Assist your client in finding a good provider who offers optimum benefits in cases such eventualities happen. 
Check out our website if you want more details or assistance caring for your seniors in New Port Richey, Land O' Lakes, Hudson, Tarpon Springs, or Palm Harbor areas. You can also contact us for questions and help on how to grow your skills towards caring for senior citizens as a caregiver and give them a better daily experience.