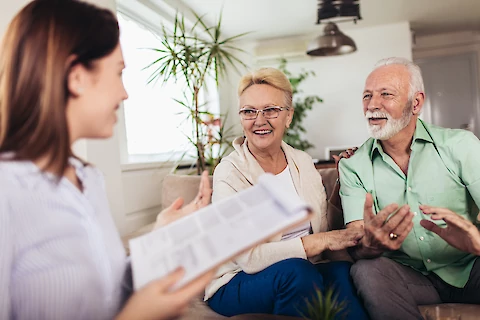 When elderly parents age, one of the most difficult conversations that family members can have with them is discussing living wills and power of attorney. It can be a very challenging conversation to initiate and navigate. Here's a look at some helpful information and advice on how to approach having those important talks with your loved ones. 
What Is a Living Will?
A living will is a legal document that puts a senior loved one's wishes in writing as to how they would want healthcare decisions made if they were incapacitated due to an illness or other medical emergencies. 
In the living will, they specify who should make those important decisions on their behalf and how they should be handled. Additionally, living wills can now include financial instructions for options such as long-term care arrangements. 
One of the biggest advantages of having a living will is that your senior loved one's wishes are done exactly as they'd want it, especially in regard to healthcare matters even if family members disagree. This can lessen the potential for conflicts among family members during a crisis. 
What Is a Power of Attorney?
A power of attorney (POA) is a legal document that grants authority to someone else, such as a family member, friend, or financial advisor to handle your senior loved one's finances on their behalf. With POA in place, the person appointed can act on your senior loved one's behalf, such as making sure all bills are paid on time and decisions about investments are made. 
The advantages of having power of attorney include ensuring that essential aspects of your senior loved one's personal affairs remain in order while they focus more attention on taking care of themselves. Additionally, it can also help minimize worries amongst family members by clarifying who will take care of these important duties.  
Discussing Living Wills and Power of Attorney with Family
When discussing living wills and power of attorney with your senior loved one, remember to focus on being respectful. Make sure that everyone is clear about the various types of documents available and why you think it's important to have these formalities in place. 
Tips for Initiating the Conversation About Important Paperwork
When initiating a conversation about having power of attorney and living wills in place with your senior loved one, keep these tips in mind:
Respect your senior loved one's wish to remain independent by offering support rather than pushing them into legal agreements. 
Assure them that this is an exercise to ensure their wishes are met and not a ploy for control over their finances or health care decisions. 
Start the conversation slowly and explain why it is essential to have these important documents ready for when you need them most. 
Be candid with everyone involved on what each document entails so there aren't any surprise questions or objections later on down the line due to incorrect assumptions being made. 
Make sure they know they can always change their minds if needed - even after the documents are signed.
These tips can help you and your senior parent more easily tackle a difficult discussion. 
Senior Helpers West Pasco Provides Services for Your Senior Loved Ones
With careful planning, thoughtful conversations, and proper documentation, you'll be prepared for all possibilities so you know your senior parent is taken care of no matter what happens. If you're in need of additional care for them such as in-home care in Pasco/Pinellas, New Port Richey, Land O' Lakes, Hudson, Wesley Chapel, Trinity, Tarpon Springs, Palm Harbor, or Oldsmar, we can help. Senior Helpers West Pasco offers services to help your senior parent age in place and maintain their independence. Contact us today to learn more about our services!