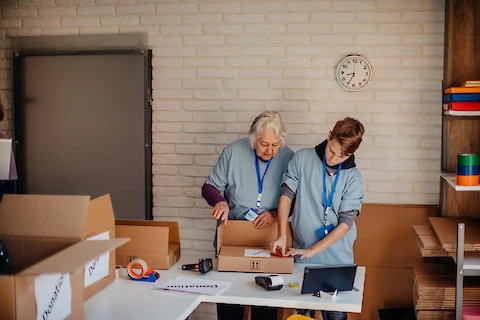 3 Fun Ways for Multiple Generations to Celebrate National Giving Month Together
December is National Giving Month, and while there are many reasons to work with a charity or volunteer organization, one of the best incentives is the opportunity to spend time doing good with family and friends. Senior loved ones might especially love uniting with a younger relative to give back to the community. If you are on the hunt for ways to celebrate National Giving Month, Senior Helpers has some tips for how multiple generations can get together and do good in the Pasco/Pinellas, New Port Richey, Land O' Lakes, Hudson, and Wesley Chapel areas.
Host a Cooking Competition
Many organizations and charities will happily accept monetary donations that will go toward helping disadvantaged individuals. While you can always choose to give cash, it is more fun to raise money together through fun activities and events. Consider hosting a cooking competition, where relatives from multiple generations can prepare their signature baked goods. The winner can receive a monetary incentive, which can then be donated to a local charity of your choice - such as The Salvation Army or Volunteer Way in Pasco County, Florida.
Collect Clothing to Donate
Homeless shelters can always use donations of new and gently-used clothing. You can take this opportunity to do good by getting together with a senior loved one to go through clothes that you wish to donate. You and your senior loved one can discuss the past, present, and future as you are going through the clothes - and by the end of the day, you'll not only have some helpful items to donate to a local homeless shelter or charitable organization like the Society of St. Vincent De Paul, but you'll have beautiful memories as well.
Help Your Neighbors with Habitat for Humanity
The Tarpon Springs, Palm Harbor, and Oldsmar areas are home to many charitable organizations that focus on providing homes and shelters for disadvantaged or unhoused people. Habitat for Humanity in New Port Richey is one of the most popular, with many opportunities for multiple generations to work together to make a difference. Habitat for Humanity regularly hosts events that invite the local community to build, prepare, and decorate homes and shelters. Best of all, people of all ages, including seniors, can get involved, with younger relatives doing more strenuous activities like sawing or stacking boards and seniors painting or sweeping.
Senior Helpers Creates Connections With Seniors
There are many ways to make a difference in your local community and to do it with the help of your senior loved one. With a little bit of planning and some inspiration, this National Giving Month can be one for the record books. Senior Helpers proudly serves senior adults in the Pasco/Pinellas, New Port Richey, and Land O' Lakes areas by providing premier in-home care services that are tailored to suit each individual's unique needs. Contact Senior Helpers West Paco today if you have any questions about the services that we provide!