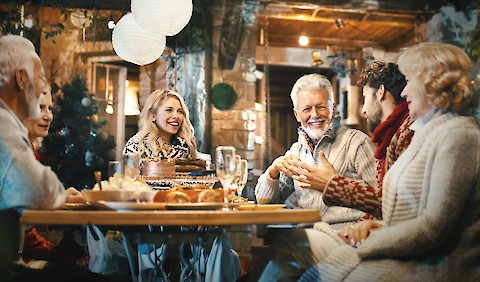 Most people think of the holidays as a time of indulgence. However, for senior loved ones with diabetes, attending holiday events and gatherings can prove to be a bit challenging. Diabetics are limited in what sweets and snacks they can enjoy, possibly leading them to feel left out. However, there are a lot of diabetic-friendly treats that can be purchased from the grocery store, ensuring that everyone will have a great time and enjoy delicious food.  Senior Helpers has some great advice for those in the Pasco/Pinellas, New Port Richey, Land O' Lakes, and Hudson areas for holiday treats that are diabetic-friendly.
3 Diabetes-Friendly Snacks Everyone Can Enjoy
Diabetics need to control their blood sugar by limiting the number of sweets that they consume. Fortunately, with so many options available at most grocery stores, it is easier than ever to pick up holiday treats that everyone can enjoy, even those elderly guests who are monitoring blood sugar spikes. Here are three diabetes-friendly treats that can be found at your local store.
Pears are a Low-Sugar Fruit Option
While diabetics have to be careful about what fruit they enjoy, pears are generally considered to be a good option. According to The Quint, pears are rich in fiber, which slows the absorption of sugar in the bloodstream, and helps stabilize blood sugar levels after consumption. Pears are also flavorful and tasty, making them an appealing holiday treat for any elderly loved one with diabetes.
Greek Yogurt is an Indulgent Treat
High in protein and low in sugar, unsweetened Greek yogurt is a great replacement for ice cream or high-sugar yogurt options. You could even set out cups of Greek yogurt buffet-style, for guests to top with fruit or low-sugar granola.
Trail Mix is Perfect for Snacking
According to Healthline, some varieties of trail mix are a great snack for anyone watching their overall health. Most trail mix is made with nuts, seeds, and dried fruit, making it high in protein as well as heart-healthy fats. When buying trail mix at the store, watch out for varieties that contain candy or chocolate, since that can cause blood sugar spikes in diabetics.
Senior Helpers Helps Senior Adults Enjoy the Holidays
When purchasing diabetic-friendly snacks for your holiday gathering, make sure to steer clear of most candy, including black licorice, cakes and scones since even sugar-free options can cause blood sugar spikes. It's also a good idea to go to the store with a list, in that way you will be able to stay on track and purchase only those snacks that will work for everyone. With just a few simple swaps and a bit of advance planning, you will be able to host a fun, relaxing gathering that all of your guests, including seniors living with diabetes, will enjoy.
As the premier provider of in-home senior care, Senior Helpers can assist your senior loved ones in and around the Trinity, Tarpon Springs, Palm Harbor, and Oldsmar areas to get the most out of the holiday season. To learn more about the services we offer and to see how we can help your senior, contact us today.