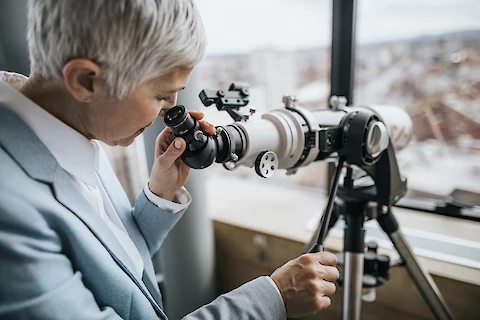 There are a few hobbies that lend themselves particularly well to sharing with senior loved ones. Stargazing is one of these hobbies. Fun, laid-back, and relaxing, stargazing allows senior adults and relatives to connect over the beauty of the night sky. December 2022 is a very busy month for astronomy, with a number of stunning occultations that will be visible to stargazers in the Pasco/Pinellas, New Port Richey, Land O' Lakes, and Hudson areas. Here are three astronomical events in December that are perfect for sharing with senior stargazers, courtesy of Senior Helpers!
The Lunar Occultation of Mars
On December 7, most of North America will be able to see the Lunar Occultation of Mars. This event takes place in the early morning hours, so make sure to bring along warm clothes just to ward off any chill. For some viewers, it will look like the moon will pass directly in front of Mars, while others might see them appearing to be very close together. Either way, this is a stunning event that stargazers of all ages will be sure to appreciate.
The Peak of the Ursid Meteor Shower
December 22 will feature another major astronomical event, the peak of the Ursid Meteor Shower. This is a great event for beginners since they can use the North Star to find Ursa Minor and then scan the night sky around the area to catch meteors as they occur. The sky will be exceptionally dark on this evening, according to Space Tourism Guide, since the moon will be in its new phase, making it relatively easy to see these meteors.
The Conjunction of the Moon and Jupiter
Cozy up in the early morning hours of December 29 and watch a striking astronomical event - the Conjunction of the moon and Jupiter. While this isn't an especially rare event, it is no less beautiful. The two will appear to be very close in the pre-dawn hours, and depending on where in the state of Florida you are located, the moon and Jupiter could almost appear to touch. 
Senior Helpers Provides Premier In-Home Care Services
Stargazing is an enjoyable activity that is perfect for all ages. There are a few important things to remember before you head out with your senior loved one to catch the next astronomical event. Make sure to bring warm clothes and blankets, even if you live in an area that tends to stay warm in the evenings. You should also be sure to bring along telescopes for both you and your senior loved one, so that you can get a close-up look at the stars and planets. With these tips in mind, you will be able to enjoy an incredible experience under the stars.
Senior Helpers is the premier in-home care provider for seniors in and around the Wesley Chapel, Trinity, Tarpon Springs, Palm Harbor, and Oldsmar areas. For questions about our services, contact Senior Helpers today!