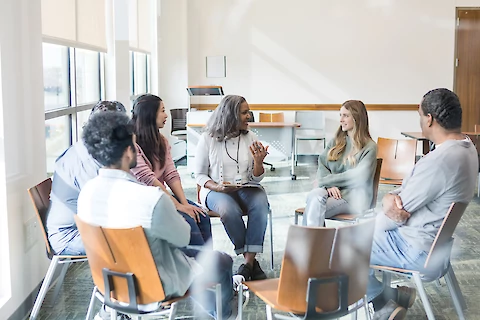 Seniors have a wealth of knowledge and experience, making it natural for them to want to share this wisdom with others. That's why Senior Helpers West Pasco has compiled this useful guide for local seniors who want to share their professional or hobby expertise in Pasco, Pinellas, and nearby areas. Your contributions will not only benefit the community, but you'll also enjoy connecting with others through your passions.
Local Mentoring Programs
A great way to share your expertise and positively impact a young person's life is through mentoring programs. Big Brothers Big Sisters of Tampa Bay connects children with dedicated volunteers for one-on-one mentoring experiences in our area. Seniors can offer valuable guidance to children facing adversity, from discussing career paths to providing general advice. Visit their website to learn about the application process.
Another option is the Pasco County Schools Mentor Program, which partners adult volunteers with students in need of extra support. By sharing your knowledge and encouragement, you can help students build self-esteem and increase their chances of success in school.
Library Events and Programs
Public libraries offer various events and programs for community members in addition to housing thousands of books. Seniors can volunteer their time to share their expertise, from leading a beginner's painting class to teaching others how to use digital devices. Contact your local library for volunteer opportunities and upcoming events.
Community Centers and Senior Centers
Community centers and senior centers also provide many opportunities for seniors to share their expertise. For example, the New Port Richey Recreation & Aquatic Center offers programs and events that could benefit from the guidance of experienced seniors, such as leading a fitness class or providing gardening tips.
The Land O' Lakes Senior Center is another place for seniors to share their expertise with their peers. From card games to educational seminars, your knowledge can enhance the programs and positively impact fellow seniors' lives. Contact the centers directly to explore opportunities.
Volunteering at Local Non-Profit Organizations
Non-profit organizations always need skilled volunteers. Habitat for Humanity of East & Central Pasco County often requires assistance with construction, home repair, or fundraising. If you're handy or have fundraising expertise, consider helping this incredible organization.
SPCA Suncoast also needs volunteers to care for animals and assist with daily operations. Seniors with experience in animal care, customer service, or other areas can use their skills to support this worthy cause.
Teaching Classes or Workshops
Sharing your expertise by teaching a class or workshop is another option. Pasco-Hernando State College offers continuing education classes for community members and is always looking for knowledgeable instructors. Contact them with your ideas for a course or workshop.
The Tarpon Springs Cultural Center also hosts various classes and workshops across different disciplines. If you're an expert in arts, crafts, or another creative field, your skills would be a welcome addition to their class schedule.
Reach Out to Senior Helpers For Support and Encouragement
There are many ways for seniors in Pasco, Pinellas, and surrounding areas to share their expertise, make connections, and positively impact the community. If you or a loved one needs assistance with daily activities while pursuing these enriching opportunities, Senior Helpers West Pasco is ready to help. Our dedicated team provides professional in-home care services tailored to your needs. Contact us today to learn more about our senior care services.