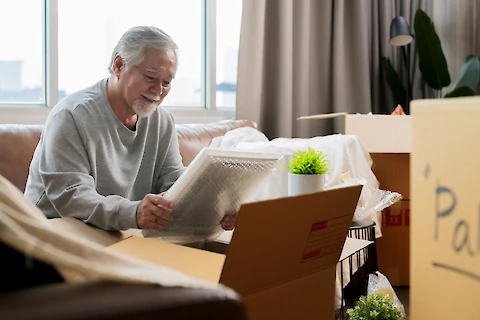 How To Make Moving Easier On Seniors (And Their Families) This Spring
Moving can be a challenging, overwhelming process for adults of all ages. For senior adults, however, moving presents particular challenges, requiring them to completely uproot their lives and start a new routine. There are some things that seniors and their families can do in order to make the process easier, however. Here are some tips from Senior Helpers Palm Coast:
Declutter Spaces Ahead of Time
If possible, encourage your senior loved one to declutter their living space well ahead of the scheduled move date. Not only will this make it easier to pack items for the move, but it will make the space seem less "busy" in the meantime. Another unexpected perk of decluttering: you and your senior adult can go through items together and decide what should be thrown out and what should be kept, leading to some great bonding moments.
Downsize Possessions
Downsizing is another way that seniors can clear out their homes or apartment before a move. Items that are still new or like new could be donated, while junk should be thrown out. Senior adults could also consider hosting a garage sale, which can help earn the senior extra money in advance of their move. Note that garage sales can be a good deal of work, so make sure to offer plenty of assistance with the process.
Consider Hiring a Moving Company
It's tiring work to pack up boxes on your own - and it could be especially hard on senior adults. It might be a good idea to hire a moving company to help pack everything up and handle the actual move. Some moving companies also offer organization services, which can help senior adults to keep their living spaces comfortable and tidy before the moving date. Before you hire a moving company, be sure to check out reviews from other customers online, so you can find a company that works well for your needs.
Pack Efficiently
If you and your senior choose to pack on your own, take care not to rush the process and pack as efficiently as possible. This includes labeling boxes, packing room by room so that items don't get mixed in together, and wrapping breakable items in bubble wrap and tape. Of course, it isn't always possible to take extra time to pack carefully, but even if you are working on a shorter timeline, try to be as meticulous as possible.
Senior Helpers Offers Premium Caregiving and Support
Moving can be complex and complicated, but by following these tips, you and your senior will be able to conquer the process and settle into the next phase of life with comfort and peace. If you have any questions about senior caregiving services in and around Palm Coast, Bunnell, Flagler, St. Johns, Volusia County, and St. Augustine, reach out to Senior Helpers today. Contact us today to learn more about our premium services and to learn about how we can help you!