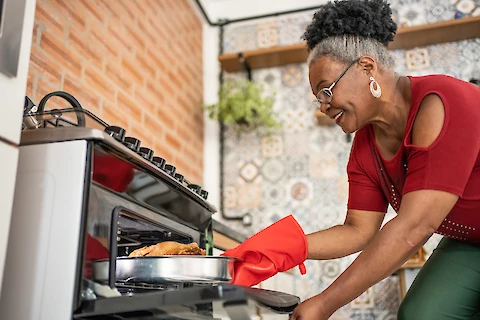 Do you want to add heart-healthy meals to your diet, but don't know where to start? You're in the right place! As an in-home senior care company, Senior Helpers Orlando understands how important it is for seniors to build healthy eating habits. Herbs are a great way to improve the taste of your meals while getting a boost of nutrition that can help lower your risk of heart disease. In this blog, we'll be covering the benefits of adding herbs to your diet and four recipes to get you started on the path to better health. Read on to learn more!
Heart-Healthy Benefits of Eating Herbs
Herbs are powerful food ingredients that can provide a wide range of health benefits. Start adding herbs to your diet right away to take advantage.
Lowers Blood Pressure
Herbs like dill, parsley, and garlic are known to reduce hypertension. Including these herbs in your meals can help you maintain healthy blood pressure, which can reduce your risk of heart disease.
Reduces Inflammation
Herbs like oregano, basil, and thyme contain anti-inflammatory compounds that can reduce inflammation and alleviate pain associated with chronic conditions like arthritis.
Improves Taste While Enhancing Nutritional Value
Herbs add flavor to your dish, making it more enjoyable. Meanwhile, they're providing beneficial vitamins and minerals, such as iron, calcium, and vitamin C.
Heart-Healthy Recipes to Try
Ready to start cooking with herbs? Here are four easy recipes to get you started:
Lemon and Sage-Roasted Chicken
Marinate chicken in a mixture of fresh lemon juice, chopped sage, garlic, olive oil, and pepper. You can add a little salt if you desire, but try a pink Himalayan salt rather than table salt for a more natural option. Don't add much if you want to keep your sodium levels down. All you need to do is roast your meal in the oven until it's cooked through.
Rosemary-Stuffed Mushrooms
Stuff button mushrooms with a mixture of minced garlic, rosemary, and cream cheese. Then, bake until golden brown. This is an easy appetizer. 
Broiled Salmon with Dill
Top a piece of salmon with a mix of lemon, butter, dill, and garlic. Then, broil it until the fish is cooked through.
Minty Green Smoothie
Blend a cup of spinach, a banana, a handful of mint leaves, almond milk, and a scoop of protein powder. You'll have a healthy and refreshing smoothie to start your day off right.
Where to Find Additional Recipes
Ready for more delicious meals that are good for you? You can find lots of additional recipes online that feature a wide range of heart-healthy herbs. The American Heart Association and the Mayo Clinic both have extensive collections of herb-based and heart-healthy recipes for you to try.
Let Senior Helpers Orlando Guide You
Herbs are a delicious and nutritious way to make your meals healthier and more flavorful. From roasted chicken to green smoothies, herbs make any breakfast, lunch, or dinner dish worthwhile. If you need help planning, cooking, or shopping for heart-healthy foods, contact Senior Helpers Orlando. We cover Orlando, Winter Park, Apopka, and Kissimmee, FL, and are happy to offer our In-Home Senior Care services and companionship.