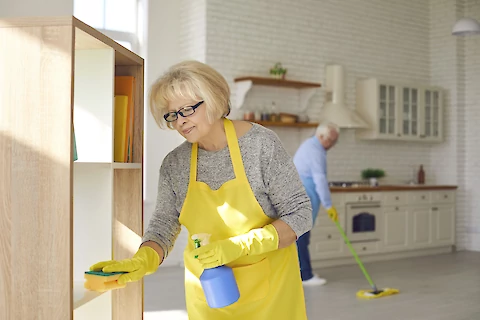 It can be challenging to keep up with the tasks that come with deep cleaning your home. But spring is the perfect time to open up your windows, get the fresh air flowing, and begin tackling those long overdue chores. It's also the perfect opportunity to seek out the help you may need. Here are a few simple tips to help you get organized and start your spring cleaning project with confidence.
Break Big Projects Into Smaller Tasks
Sometimes, the hardest part about deep cleaning is just getting started. Dividing bigger projects into smaller tasks can help you feel more organized and make the process feel less overwhelming. Create a cleaning schedule, breaking up tasks throughout the entire spring cleaning process, including dusting, wiping down surfaces, organizing items into bins, and more. It's a great way to make sure you don't miss anything while also feeling like you're making progress.
Use Natural Cleaners
When it comes to deep cleaning your home, it's important to use the right products. Natural cleaners are a great option because they can be used safely on most surfaces and can be more environmentally friendly. Try using a mix of water and vinegar, lemon, baking soda, or essential oils for areas like countertops and showers.
Ask for Help
If you're feeling overwhelmed with all the tasks of deep cleaning your home, don't be afraid to ask for help. Whether it's from family members, friends, or an in-home senior care company like Senior Helpers of Nature Coast, a little help can make the process much easier.
Set a Timer and Take a Break
As you work through your spring cleaning checklist, make sure to take breaks and stretch your legs. Set a timer to remind yourself to take a few minutes every hour. It'll help give your muscles and mind a break and make sure you don't get too tired or overdo it and hurt yourself.
Use Proper Techniques
When it comes to lifting items or scrubbing surfaces, make sure to use proper techniques. For example, when vacuuming, lunge forward with one leg instead of bending over the machine. When lifting heavy baskets and boxes, bend your legs and use them to lift instead of incorporating your back. Proper techniques can save your body from injury and help you complete your tasks more efficiently. 
Donate Unused Items
When deep cleaning your home, it's a great opportunity to donate any items that you no longer need. This can help clear clutter and create more space. Plus, it can be a simple way to freshen up the place without much work involved. Numerous nearby organizations can take your donations, including the Salvation Army, Goodwill, and local homeless shelters.
Ask Senior Helpers of Nature Coast for Help
Deep cleaning your home doesn't have to be a daunting task. With a few simple tips, you can make the process more manageable while also getting your home ready for the upcoming season. If you need assistance, don't hesitate to reach out for help from family or an in-home senior care company like Senior Helpers of Nature Coast. We service Spring Hill, Hernando/Citrus, Zephyrhills, Brooksville, Weeki Wachee, Inverness, Crystal River, Hernando, Lecanto, and Homosassa, and are here to assist you no matter your needs.