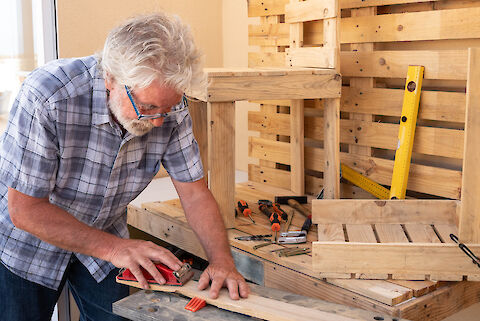 As people age, cognitive function can begin to decline. This can also cause self-confidence to waiver. Fortunately, there are ways to keep our minds sharp and our spirits lifted. DIY projects can be the perfect solution for seniors wanting to stay engaged, active, and independent. Today, we'll look at the cognitive benefits of doing DIY projects, as well as the positive social effects they bring. Let's begin our journey toward greater health and happiness.
Benefits of DIY Projects
Enhancing Physical and Mental Well-Being 
Doing DIY projects can have a range of physical and mental benefits for seniors. From increased dexterity, strength, and coordination to improved concentration and memory, there are many advantages to be gained from such activities. Even low-impact projects such as gardening can have positive effects, as the physical activity involved can improve heart health and reduce stress. 
Improving Memory 
Research has also shown that doing DIY projects can have a positive effect on memory. This is especially true for projects that are complex and involve problem-solving or tasks that require a high level of concentration. Setting challenging goals can help maintain and even improve mental abilities, as well as give a sense of satisfaction when they are achieved. 
Worthwhile DIY Projects to Try
Woodworking 
Woodworking is a fantastic way to stay active and creative, as well as learn new skills. Building furniture, creating sculptures, and making toys are just some of the possibilities. It is low-impact and can be done at your own pace.
Painting 
Painting can be a calming, creative activity that will give you a sense of accomplishment when finished. Whether you choose traditional paint, watercolors, or even digital painting, this can be a great way to express yourself.
Sewing 
Sewing is another skill that can be picked up easily at any age. It does not have to be complicated or time-consuming. Tackling small projects, such as cushions and bags,  can be just as rewarding as the larger pieces, like quilts. 
Gardening 
Gardening is a great way to get outdoors, get some exercise, and provide your body with the nutrient-rich foods that come from the fruits and vegetables you grow. It's also perfect for those with limited mobility, as even indoor containers can be used to grow flowers and herbs.
Crafting 
Crafting can come in many forms and is a great way to get creative. From making jewelry to crocheting hats, some endless possibilities and projects can be made.
Positive Social Effects of Completing These Projects 
Completing DIY projects can also bring a great sense of accomplishment, pride, and social interaction. Through the process of creating something, seniors will gain new skills, which can create new opportunities to engage with peers and community members.
Reach Out to Senior Helpers of Nature Coast
As seniors, it's important to stay engaged and find meaningful activities that are both beneficial and rewarding. Doing DIY projects can boost cognitive function, increase self-confidence and provide a great sense of achievement. If you're a senior living in Hernando/Citrus, Spring Hill, Brooksville, Weeki Wachee, Zephyrhills, Inverness, Hernando, Lecanto, Crystal River, or Homosassa, and find it difficult to pursue these activities, Senior Helpers of Nature Coast can help. We provide assistance with various activities of daily living and companionship for our seniors, allowing you to access the resources for DIY projects and more. Contact Senior Helpers of Nature Coast today to learn how we can help!