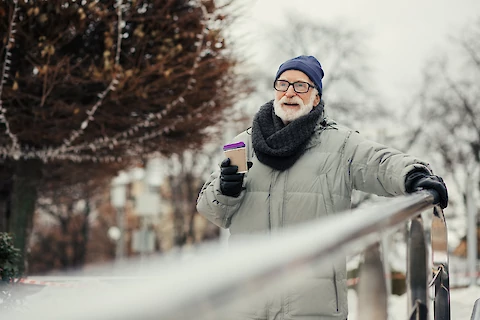 Injuries due to trips, slips, and falls are common. Especially during the winter, ice and snow increase the probability of these accidents in Zephyrhills, Hernando/Citrus, Inverness, Lecanto, Spring Hill, Weeki Wachee, Homosassa, Crystal River, or Brooksville area. Winter slips can lead to severe injuries such as bruises, concussions, and broken bones. Luckily, below are some preventive measures you can do to keep you and your senior loved one safe during the winter season.
8 Winter Safety Tips to Prevent Your Senior Loved Ones From Slips, Falls, and Trips
1.    Identify Hazards
As the first caregiver at home, you must survey your home in Crystal River or Weeki Wachee for any potential trips, falls, or slip hazards. They may include unsalted and wet floors, poor indoor visibility, or uneven walking surfaces. As the primary caregiver, observe where water collects and reroute gutters that discharge into sidewalks around your home.
2.    Planning Ahead
Once the hazards have been identified, it is time to devise a plan to address the risks. Have a plan to treat ice, for instance, hiring a contractor in the Zephyrhills, Hernando/Citrus, Homosassa, or Brooksville neighborhood. You may also consider servicing your snow blowers and ensuring they are within reach before the weather.
3.    Clear Pathways And Entrances
Ensure entrances and paths are clear. During the winter, you can shovel snow or salt ice to keep entrances safe.
4.    Avoid Wet Floors
Wet floors are potential trip hazards, ensure that they are dried. Inside your home in Inverness or Lecanto, placing well-secured mats at the entrance should be your first line of defense.
5.    Ensure Your Home Is Well-Lit
When walking in the dark, carry a flashlight to assist you in seeing what is ahead. Poor lighting in your home can make it difficult for seniors to spot slip hazards.
6.    Use Handrails
Ensure that your home has handrails to help your senior loved ones when they are walking up or down the stairs in your home.
7.    Gear-up Appropriately
As a primary caregiver, ensure that your loved one dresses appropriately. For instance, they should wear shoes with good traction and avoid smooth-soled shoes when going outside. Also, encourage them to make slow, steady steps.
8.    Mind Your Balance
Advise the seniors to keep their hands as free as possible to ensure that they have balance when walking. This ensures they have a better chance of catching themselves if they fall.
Necessary Steps To Take in Case of Winter Accidents
Although it is almost impossible to prevent trips and falls, you should; protect yourself as much as possible through the tip below if it happens:
•    In case you fall, calm down and take a deep breath.
•    Take a few minutes to determine if you are hurt or feeling any pain.
•    Immediate slip treatments include applying ice packs to avoid swelling
•    If badly hurt, seek medical attention. If the injured person initially feels okay, they should not hesitate to seek medical evaluation.
While one cannot always prevent falls in the winter, taking preventive measures has proven to help. If you live around Hernando/Citrus, Spring Hill, Weeki Wachee, Zephyrhills, Inverness, Lecanto, Crystal River, Homosassa, or Brooksville, the professionals at Senior Helpers of Spring Hill offer seniors assistance with everyday activities.  Contact us for more information on our caregiver services.