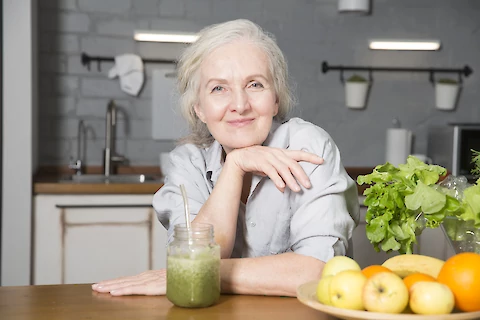 Eating fruits and vegetables is important for everyone's health. They are a great source of nutrition and antioxidants. This should be one of the primary considerations when taking care of senior adults with healthy snacks. Incorporating regionally grown seasonal produce in a senior's diet can boost their health and mood, support immune systems, protect against certain diseases, and strengthen their bodies.
Some of the best seasonal foods for senior adults in Spring Hill are mustard, dark green leafy vegetables, kale, chard, and collard. These veggies have antioxidants and bioactive compounds that help senior citizens stay healthy. 
Another healthy seasonal produce is broccoli which has phytochemicals that reduce the chances of developing cancer, and high fiber content prevents constipation in seniors. Broccoli also contains anti-aging agents. 
Apples also make the best seasonal produce for senior adults that you shouldn't forget to include in their diet. They contain water, fiber, proteins, and other flavonoids that lower the chances of developing cancer. The pectin in apples is commonly used as a complementary option to treat digestive issues. It stabilizes cholesterol levels and prevents diabetes in senior adults. 
Cranberries are another great source of nutrients and bioactive components that should be part of a senior's diet. They contain antioxidants which is a good anti-aging property. Cranberries also lower the chances of developing heart issues and high blood pressure. 
Don't forget to incorporate pumpkins into a senior's diet. Pumpkins are rich in vitamins, antioxidants, and minerals. The antioxidants protect eyesight, lower the risk of certain cancer, boost the immune systems and promote heart and skin health in seniors. 
Easy, Healthy, and Tasty Recipes for Seniors in Spring Hill
Seasonal produce can be tasty and nutritious if prepared well. The preparation doesn't have to be complicated and time-consuming.
Here are simple recipe ideas for senior's healthy snacks:
Fruit-Infused Waters
DIY Recipe: Gather the preferred flavor of fruits, herbs, vegetables, and cold water. Chop the fresh produce into pieces and mix it with water. The quantity of fruit water you produce depends on how much water you use and how much flavor you want. 
Fruit water is refreshing and delicious. The vitamins, minerals, and antioxidants make the body stay hydrated, flushes out toxins from the body, and boost energy, brain fusion, and immune system, among several other benefits. 
Frozen Fruit Bars
DIY recipe: Add sugar syrup and fruit juice of your choice, whether apple, strawberry, or mango, in a fruit puree (sauce) and pour the mixture into juice bars. Freeze the bars for about 5 hours unit the mixture becomes firm.
Frozen fruit bars are nutritious and flavorful. They are high in fiber, vitamins, minerals, and carbohydrates and can reduce seniors' risk of stroke and heart attack. 
Green Smoothies
DIY recipe: Use more fruits and several leafy greens. You can use the 60-40 formula, where 60 represents fruits while 40 represents leafy greens. Blend the mixture until soft but do it in stages to avoid leafy chunks. You can freeze the smoothie.
These are some of the many seasonal produce recipes to prepare for a senior loved one. It should be done continuously to enable seniors to maintain good health.  
Choose Healthy Snacks for a Senior Loved One 
Incorporating seasonal produce in a senior's diet helps them stay healthy and avoid many health issues. Keeping the diet interesting could mean changing it often. But this requires healthy snacks and good care from experienced caregivers. If you are looking for professional home care services for your senior loved one in Spring Hill, Hernando/Citrus, Brooksville, Weeki Wachee, Zephyrhills, Inverness, Hernando, Lecanto, Crystal River, and Homosassa, contact us today.