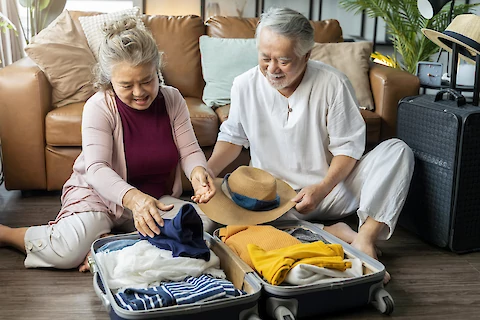 Summer is the perfect time for seniors to pack their bags, hit the road, and explore new destinations. Travel provides a change of scenery and offers numerous physical and mental benefits for senior adults. However, choosing a destination that caters to senior travelers' specific needs and preferences is essential. Our top summer travel picks are perfect for unwinding and creating lasting memories!
Top Summer Travel Destinations for Seniors
Myrtle Beach, South Carolina
Myrtle Beach is a beautiful coastal destination known for its sandy beaches, golf courses, and lively entertainment. Seniors can enjoy catching a show, shopping for souvenirs, or indulging in delicious local cuisine. With a wide range of wheelchair-accessible attractions and accommodations available, Myrtle Beach is both welcoming and inclusive.
San Diego, California
With its stunning beaches, picturesque parks, and world-renowned zoo, San Diego is an excellent choice for senior travelers looking for diverse activities. Explore the city through sightseeing tours, visit fascinating museums, or stroll through beautiful gardens. Additionally, San Diego's public transportation is reliable and accessible, making it easy to get around.
Niagara Falls, New York
Visit the iconic Niagara Falls for an unforgettable experience amidst the cascading waters and lush surrounding parks. Seniors can revel in the breathtaking views on boat tours, enjoy scenic drives, or take leisurely nature walks. Wheelchair-accessible attractions and accommodations also ensure that all travelers can comfortably enjoy their stay. 
Asheville, North Carolina
Nestled in the Blue Ridge Mountains, Asheville is a charming mountain town known for its vibrant arts scene and historic architecture. Seniors can browse art galleries, visit intriguing museums, or enjoy the stunning landscape on scenic drives. In addition, public transportation and accessible attractions make getting around a breeze. Asheville offers accommodations and activities at various prices, ensuring something for everyone's budget. 
Sedona, Arizona
Experience the mesmerizing beauty of Sedona, a desert town enveloped by red-rock buttes, steep canyon walls, and lush pine forests. Seniors can embark on guided jeep tours through the dramatic landscape, visit local art galleries, or go shopping for unique souvenirs. Also, wheelchair-accessible attractions and accommodations make exploring Sedona comfortable and convenient. Sedona caters to all budgets, with various accommodations and attractions available at different prices.
Tips for Planning a Summer Trip for Seniors
To ensure your summer vacation is as enjoyable and stress-free as possible, consider the following tips when planning your trip:
Research accessibility and accommodations in advance to avoid any unexpected challenges.
Look for senior discounts and deals to make the most of your budget.
Plan for rest and relaxation time to avoid overexertion and potential health issues.
Consider purchasing travel insurance for added protection and peace of mind.
Consult with a travel agent for personalized recommendations based on your interests and preferences.
Looking for More At-Home Support This Summer?
With so many incredible destinations suited for senior travelers, there's no reason to stay home this summer. Embrace the adventure and create lasting memories by exploring one of our top picks for summer travel with seniors. If you live in Hernando, Crystal River, or Homosassa, Senior Helpers of Nature Coast is here to assist and support your loved ones. Contact Senior Helpers Nature Coast today to learn more about our services and ensure your summer travels are worry-free.