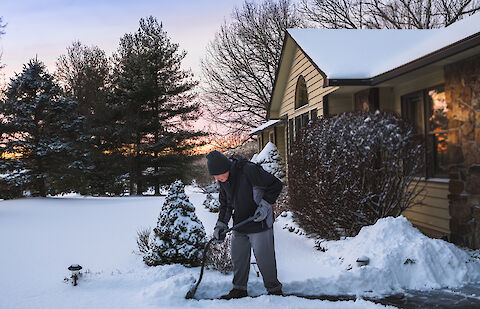 As the winter season approaches, it is time to prepare your home for the cold weather. If you live in Brooksville, Spring Hill, or the Weeki Wachee area, performing several maintenance tasks keeps your home running. It is, indeed, a daunting task to prepare your home for winter. That is why many seniors may need extra help during the season doing some winterizing tasks.
Ten Winterizing Tasks That Seniors Can Perform
With a good checklist, it can be relatively easy to prepare for winter. Below is our guide consisting of tasks that seniors can do to make the process seamless:
Disconnecting garden horses, unplugging fountains, and turning off the water.
Replacing old walkers and canes with new ones. As one ages, mobility and balance are affected. Thus, falls are frequent.
Revamping winter wardrobe by restocking on gloves, coats, and warm clothes.
Making provisions for power outages. Winter can routinely weigh down on power lines. Thus, assembling decent flashlights and extra batteries is necessary.
Restocking for emergencies, like stocking the pantry with enough food. Also, ensuring that emergency kits and extra supplies such as extra warm clothes are within reach.
Eating a balanced diet ensures that your body is fueled.
Covering patio furniture to ensure they do not trap moisture.
Setting up window treatments is one of the winterizing tasks. Ensure you take advantage of natural light during the day by opening blinds and curtains and closing the windows at night.
Cleaning outdoor equipment such as barbecue items and garden tools and storing them indoors.
Most importantly, building a social network. Reach out to your friends and neighbors. Further, even a friendly wave or smile can go a long way to make a difference.
Ten Winterizing Tasks That Third-Party Service Providers Can Do
For seniors who are not ready to do the tasks or may feel overwhelmed, this may be a sign for you to consider other options. The headache of preparing for winter motivates them to consider the services of third-party professionals like Senior Helpers of Spring Hill. Here is a checklist of tasks that professionals can perform:
Checking the heating system - They will ensure that an HVAC team will do an annual inspection to ensure the system is working well.
Arrange for snow and ice removal - Service providers will help you make arrangements with contractors who will get snow and ice removed from driveways and pathways.
Inspecting gutters and removing any leaves or debris.
Servicing the chimney - The professionals will ensure that the chimney is running efficiently; if not, they will hire a cleaner to clean debris.
Examining doors and windows. The team will inspect doors and windows for gaps to ensure that warm air does not escape. They also insulate them by putting sealable plastic covers.
Checking attic and basement for adequate insulation. Some areas prone to air leaks in your home, including behind knee walls, electric wiring holes, furnace flues, and rim joints, will be checked thoroughly.
Trimming overhanging trees to eliminate weak tree limbs. This winterizing task is essential to eliminate a safety hazard that can damage property.
Insulating pipes to prevent them from freezing.
Replacing missing roof shingles to prevent water from leaking into your attic.
Lastly, installing carbon monoxide and smoke detectors to prevent trapping toxic gases in your home.
Let Senior Helpers of Spring Hill Take Care of Your Elderly Loved One With Our In-Home Senior Care
There are several winterizing tasks to consider before the winter season sets in. Lucky for you, we have provided a checklist you can use for future reference. Senior Helpers of Spring Hill offers a range of care services to ensure your loved one stays warm and safe during the winter.  If you live around Spring Hill, Brooksville, or Weeki Wachee, contact our friendly team, who will be delighted to assist your loved one with daily activities.