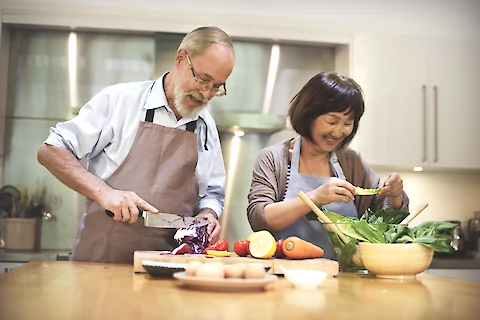 Eating a balanced and healthy diet is an important factor in promoting health and longevity for elderly people. Unfortunately, conditions like arthritis affect seniors' ability to cook safely due to mobility and dexterity issues. In this blog post, we'll go over some helpful tips that can help seniors with arthritis or hand-related mobility issues make meals safely and conveniently at home. 
Buy Pre-Cut or Prepared Items From the Store
If possible, seniors should buy pre-cut vegetables from the store to help reduce hand strain. Pre-chopped carrots are easy to find, and some veggie trays offer a variety of choices that are already small in size. This cuts down on prep time significantly. Many stores also offer prepared garlic that is ready to use, which can be a convenient and time-saving option when cooking with limited hand mobility.
Utilize Adaptive Kitchen Tools
The tools you once used may no longer be suitable for your level of dexterity. However, many adaptive kitchen tools on the market can help. For example, try a jar opener tool so you don't have to struggle, or utensils with larger handles for better grip. The goal is to reduce stress placed on the wrists, fingers, and hands overall. 
Prepare Food in Advance
Perhaps there are days when your hands feel better than average. Take advantage of this and prepare some food in advance. You can spend longer making more meals and freeze them to reheat later in the week. That way, you won't have to worry about cooking on a day when your hands are especially sore and struggling. 
Try a Meal Delivery Service
You could also consider trying a meal delivery service. Some options may be costly, but they can save you the hassle of shopping and having to do so much prep work. Some services come with the ingredients ready to be poured into your pan, while others are already made and simply need to be reheated. Many provide initial discounts to lessen the cost.
Find Simpler Recipes
It may no longer be feasible to spend hours on a single recipe. Finding simpler options can help reduce your time spent in the kitchen. Soups and slow cooker meals are great solutions for those with limited hand movement. Many of these recipes require less chopping or cutting and can be achieved without taxing the hands too much. Visit websites or search your cookbooks for easy-to-follow recipes that will have you finished and off to rest your hands sooner than usual. 
Request Help From a Loved One or Caregiver
Sometimes, a little help from friends or family members can be the much-needed solution. If you are unable to use kitchen utensils safely due to joint issues, ask for help with food prep and cutting up hard vegetables. It is important that even if you get aid from others, safety still comes first! Make sure all your cooking tools are closed securely before allowing someone else to take over being in charge of them. 
Contact Senior Helpers Fort Myers Cape Coral
If you live in Captiva, Sanibel, North Fort Myers, Cape Coral, Fort Myers Beach, Lehigh Acres, Fort Myers, or Punta Gorda and would like help making meals safely and conveniently at home due to arthritis or hand-related mobility issues, then contact the team at Senior Helpers Fort Myers Cape Coral. Our caregivers have the training to assist with all of your cooking needs while adhering to stringent safety standards. Call us today!