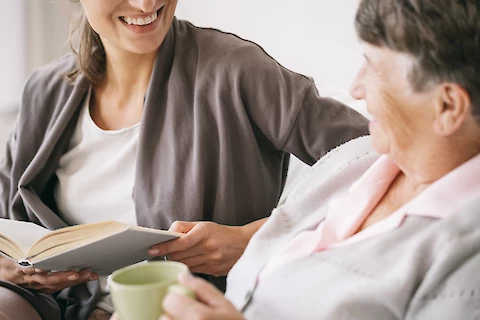 It's National Book Lover's Day! Every year, this special day lets you celebrate the joy that books bring into your life. It's not just for the young. This holiday is just as important, if not more so for your senior loved one. Whether your senior family member was a bookworm in their younger days or they need a little nudge to reignite a love for literature, National Book Lover's Day can be incredibly meaningful and enjoyable. You may want inspiring and creative ways to mark this day with your senior parent. From reading aloud to reminiscing over favorite novels, these book-related activities come with cognitive benefits.
The Joy of Reading Aloud
Reading a book aloud to a senior can be an enriching experience for both of you. Not only does it transport them to a different world, but it reinforces the bond you share. Classics such as The Old Man and the Sea by Ernest Hemingway or To Kill A Mockingbird by Harper Lee are among the many books that can foster great conversation afterward.
Reminiscing Over Beloved Novels
Asking seniors to share their favorite books can be a beautiful trip down memory lane. It engages their memory and emotions. It might also provide you with new reads to add to your list. It also gives you a deeper understanding of them as individuals - their interests, life experiences, and how these influenced their preferences.
Visiting Libraries
If feasible, a trip to the library can be an exciting outing for your senior loved one. Local libraries, such as the Cape Coral Public Library, often offer comfortable seating areas, which can be a delightful place to explore new reads together. Remember to take it slow and ensure your loved one's comfort throughout the visit.
Audiobooks for Seniors With Visual Impairment
For those who have visual impairments, audiobooks can be a game-changer. They allow seniors to immerse themselves in the narrative without straining their eyes. Opt for renowned audiobooks like Pride and Prejudice narrated by Rosamund Pike or Sapiens: A Brief History of Humankind narrated by Derek Perkins. Not only do these provide entertainment, but they also stimulate cognitive processes.
Strengthening Caregiver-Senior Connections Through Literature
Reading-related activities present fantastic opportunities to deepen your connection with the seniors in your care. Whether it's the shared laughter over a humorous passage or the mutual empathy for a character's plight, these experiences can bring you closer together. It's all about the quality time spent, the exchange of ideas, and the understanding and compassion that naturally flows from this.
Senior Helpers Fort Myers - Cape Coral Support Seniors Who Want to Age in Place
Celebrating National Book Lover's Day with seniors can open up avenues of connection, nostalgia, and cognitive stimulation. When the celebrations are over, these literary activities can become part of your regular interactions, making every day a little more special.
For those in Fort Myers, Cape Coral, and the surrounding areas who need a helping hand with senior care, don't hesitate to contact Senior Helpers Fort Myers - Cape Coral. Our dedicated team is here to provide the support, companionship, and professional assistance you and your loved ones need. After all, we believe that every chapter of life should be cherished, just like a well-loved book.